1945
In a letter to the US Secretary of State, President Ho Chi Minh said: "The situation in Vietnam has become so urgent that it requires intervention by the United Nations…"
He also accused the French colonialist administration of acting against the UN Charter and reiterated that "the only claim of the Vietnamese people is total independence."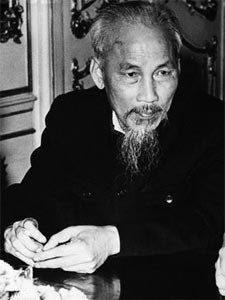 File photo of President Ho Chi Minh
He wrote: "For the sake of truth and justice, we want the following: 1. Issues related to Vietnam must be discussed at the first meeting of the Far East Consultative Committee; 2. A Vietnamese delegation must be allowed to attend that meeting to put forward the Vietnamese Government's points of view; 3. An investigative committee must be sent to South Vietnam; and 4. Vietnam's complete independence must be recognized by the UN."
1946
In an interview with local and foreign media about his working visit to France, the President said: "Spiritually, 90 percent of the French people support Vietnam's peaceful and democratic efforts. Most of the French people are in sympathy with the Vietnamese people and support Vietnam's independence.
Asked about his feeling about returning home, the President said: "I feel happy since we have a good harvest that saves our people from starvation, and our people's sentiments towards the French and other foreigners here are becoming better and better."
About the Vietnamese Government's policies, he said: "I can say there is no change. Internally, our Government's policy is to unite the people to build the country; externally, we resolutely claim independence but want to be part of the French Union.
"In our relationship with other countries, Vietnam will continue to maintain its friendship with them."
Commenting on the role of the press, he said: "A newspaper is a means through which we can express our thinking in written form. In a newspaper, we can release an ultimatum or a message of love… From now on, I think we should write affectionate letters in newspapers. I hope press agencies will help build friendship between nations as well as between themselves."
1963
At a Politburo meeting on the Party's international relations, the President said: "Our Party's policy is to unite the peoples of the world and be willing to act as a bridge for that unity."
1965
In "The older they get the better they are" in Nhan Dan (The People), the President wrote: "Following the tradition of fighting invaders that originated at the Dien Hong Conference*, many older people today do not want to lead a leisurely life but want to contribute to the fight against US invaders to save the country, despite their age.
"Party agencies and local authorities should support them in organizing and developing Bach dau quan [the army of old people], which is a relatively important force in our fight against US invaders.
"To conclude this letter, I would like to offer all dear elderly people the following verse:
The older you get, the higher your morale;
In fighting US invaders to save the country,
You are not inferior to young people.
*Dien Hong Conference was a special meeting convened in 1284 by King Tran Nhan Tong and his father to bring together the nation's elders to seek their advice on how to deal with a threat to the nation from the north.
By Duong Trung Quoc* and his assistants
The author is a historian and member of the National Assembly