1920
 
French detectives reported that Nguyen Ai Quoc and other Vietnamese had attended a meeting held by the French Social Party's Cell 13. 
1946
 
At a tea party with a Hanoi delegation after returning from France, he said, "We have joined efforts to work hard and unanimously so that we have achieved success more or less. We have now to join more efforts to shoulder the responsibility for state and family affairs."
 
On the same day, in a letter to children, he said, "I am writing to thank you and give advice: [You] 1. have to study hard. 2. follow sanitation rules. 3. keep discipline. 4. follow new life. 5. love and help [your] parents and siblings."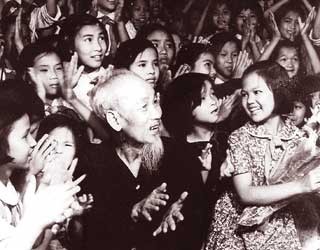 File photo of President Ho Chi Minh with children in 1969
1947
He completed his work "Modifying working style." 
In a section on "Issue of officials," he wrote, "Officials are the root of all works. Training officials is the Party's major work. A work which will be successful or fail depends on officials' ability. Therefore, the Party has to train officials like a gardener cultivating precious plants. Talents, officials and everyone who is helpful for our common works must be respected." 
"The liberation movement is exciting and many talents who are not party members have emerged from it. We are not allowed to let them down and isolate them. We have to sincerely show solidarity with and support them, be friendly and close to them, and use their talents for the war of resistance for the national salvation. 
"We have to eradicate the disease of being arrogant, insular and owning up to mistakes. We are not afraid of mistakes and shortcomings, but an unwillingness to correct them. We are more afraid of leaders who don't find good ways to help officials correct their mistakes and shortcomings. Officials have to be promoted because of their works, talents and encouragement. In that way, works will certainly run smoothly. If it is made because of love, hatred, relations and indulgence, it will cause problems in the Party. Thus, [those leaders] will be guilty about the Party and the people."  
1962
He went to a national art exhibition and remarked, "Paintings … show human love and describe sincerely ordinary laborers. Painters have tired to express life, that's good. But paintings have yet to express the enthusiasm of emulation among the people. [Painters] should bring into play national characteristics."

By Duong Trung Quoc* and his assistants
The author is a historian and member of the National Assembly