1921
Nguyen Ai Quoc participated in a debate with the medical community about metaphysical issues, in which they discussed whether souls exist.
1945
In a press conference, President Ho Chi Minh said: "This meeting is an international one since it is conducted in the spirit of 'within the four seas, all people are brothers.' France is now an adversary to Vietnam, but the French delegates at this meeting are my friends."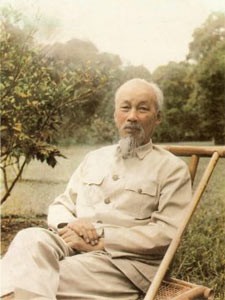 File photo of President Ho Chi Minh
He confirmed the Government's policy, "to unite the entire people, pursue justice, and safeguard the country's independence at any cost."
1946
Receiving a delegation of the Vietnam General Confederation of Labor, the President said: "In the world, workers in countries where they are well organized have a strong position and workers in countries where they are poorly organized have a weaker position.
"In Vietnam, trade unions must be simple but steady organizations. They are tasked with protecting workers' rights and interests and assisting the Government in building the country.
"The Vietnamese Government is a democratic one, which always gives spiritual support to the trade unions. The country's Labor Code will protect workers' rights to free organization and free strikes. It will include regulations on working hours and wages, and on protection of women, elderly people and children.
"All civil servants and workers must work to make their living. In the South, not only workers but all other classes have the right to free organization, freedom and democracy, as stated in the Provisional Agreement signed with the French."
The same day he met his elder sister, Ms. Nguyen Thi Thanh alias Bach Lien, who came to the capital from their native land, central Nghe An Province, to visit him. The meeting was the last between them after 30 years of separation.
1947
The President completed a book titled "Reforming Working Styles," which included a chapter called "Learn from the public but do not run after them blindly." In it, he wrote: "The public are very clever, enthusiastic and brave. We must learn from them, listen to them and understand them. Every motto, task or policy must be based on the people's opinion, experience and aspiration.
"To understand and learn from the people, we must be enthusiastic, determined, modest and painstaking, since if we are not, the people will not put trust in us and will not speak out or speak up about what they know. With support from the public, we will get everything done; on the contrary, without the public's support, we will fail in doing anything.
"However, we should not run after the public blindly but should collect their opinions and consider them in outlining policies. We should bring political issues into the people's practical life.

"Previously, we lead the people from top to bottom, but now we must lead them from bottom to top. That way, we will create unanimity between the people and cadres about the Government's policies and that unanimity will in turn help our Party develop rapidly and steadily."
1954
In "Exemplary workers and their examples" published in Nhan Dan (The People) newspaper, the President wrote: "If every person and every sector follow workers' diligent and thrifty examples, our people will certainly become wealthy and our country will certainly become powerful."
 By Duong Trung Quoc* and his assistants
The author is a historian and member of the National Assembly