1945
President Ho Chi Minh issued a "call on the youth in south Vietnam", in which he said: "You have had to bravely fight for one month. All the people are moved by your courage. Despite the bloodshed, the people and I believe that the young in the south are determined to fight to the end for the nation's independence.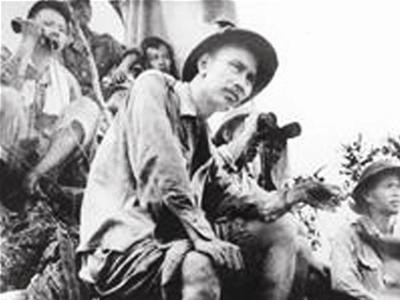 The fole photo shows President Ho Chi Minh following the Dong Khe front in the Border Operation in 1950.
"In the resistance war, you are the firm Great Wall. You must consolidate, unite, and trust the nation's power. Those who have sacrificed their life for the nation make the people more determined to win the war.
"Fellow citizens! I pledge to go along with you in the fight for Vietnam's independence and freedom… The resistance war in self-defense is surely to be successful".

1946
After replying to National Assembly (NA) members' questions at the second session of the first NA, President Ho Chi Minh said: "Despite the fact that the current Government is just over one year old and inexperienced, NA members grilled the Government with sophisticated questions referring to issues on the country's destiny.
"Who dares say that the Vietnamese people can not become independent when its NA has grown politically and is concerned over the country's fate?"
1950
The president wrote, "The advice to soldiers" after the victory of the Border Operation. He said, "The first victory in this operation is the complete liberation of a large area including Cao Bang, Dong Khe, and That Khe; the second victory is the lesson on strong and weak points of our forces".
He added, "We should remember that this is the initial victory. We must fight and win in fiercer battles in order to achieve the final victory".
1958
Speaking at a conference on culture, the President said: "In recovering the nation's traditions, we should recover the good traditions only… Government officials in general and cultural officials in particular must increase political awareness and responsibility… If we would like to win people's hearts and minds we must live and work together with people. Only in that way can we know their living conditions, difficulties, and desires".
The same day, the President visited Vietnam's Fine Arts School and spoke with teachers and students. He said; "Socialist thoughts include working for people in society because society has fed and educated us. That also means all for one and one for all.
"Serving society with our hearts and minds is the 'light' side. Selfishness, bureaucracy, wastefulness, and embezzlement are the 'dark' side. The two sides are always contradictory. We must cultivate socialist thoughts until the light side completely defeats the dark one".

By Duong Trung Quoc* and his assistants
The author is a historian and member of the National Assembly