1921
 
Nguyen Ai Quoc attended the first meeting of the Inter-colonial Union, of which he was one of its founders. At that time, the union had nearly 100 members, many of them were from Vietnam and Madagascar.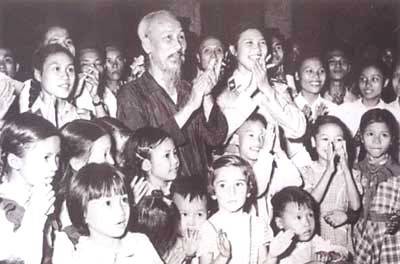 President Ho Chi Minh enjoys Mid-Autumn Festival with Hanoi and international children in 1958
1945
Cuu Quoc (National Salvation) published two of his articles.  
In an article, "Anti-illiteracy," in the name of the interim Government's President, he said, "Now we have gained independence. One of the urgent tasks at this time is to enhance the people's intellect."  
"[Dear] Vietnamese people! [If] wanting to sustain independence and make the people strong and the country prosperous, all Vietnamese people have to understand their interests and duties, and have new knowledge to be able to help build the country, but firstly, they have to know how to read and write the national language." 
In another article, "Lacking organizational sense – A big mistake of People's Committees," he analyzed existing realities at people's committees to express judgment and introduce solutions to disorder.  
He said, "If there is a working plan but the work isn't arranged astutely and the assignment isn't made well, the work will fail. A person who is good at speaking but is assigned work that requires skills and a person who is good at writing but is assigned manual work, the work can't be performed successfully." 
"We shouldn't base work on so strict conditions in using talents. Great talents will be assigned great work, and the others will be assigned small work. Who has the ability for that work will be arranged for that work. If we know such use of personnel, we will not worry about a shortage of officials. Officials not only have to work hard but also methodically. Have to be diligent and also careful." 
On the same day, at a Government Council meeting, he talked about his meetings with Colonel S. L. Nordlinger, head of a US humanity mission, to discuss bringing rice from the South [to the North] for famine relief, and General Ha Ung Kham of the Chinese National Party about releasing French prisoners of war  
President Ho Chi Minh presented the US officer an embroidery painting. Col. Nordlinger's family later presented this gift to the Ho Chi Minh Museum in 2006. 
1946
Continuing a series of "Binh Phap Ton Tu"(Sun Tzu's 'Art of War'), he wrote an article, "Method of fighting and defending, and advancing and retreating," in Cuu Quoc under the pseudonym Q. Th. 
The article said, "The art of conducting a war is a multiform method. Depending on chances, location and the enemy's situation, a general will create fighting ways. To win, the art of fighting and defending and advancing and retreating has to be always changed according to chances and situations on the battlefield. As quick as lighting and as versatile as God are the secrets of the art of conducting a war." 
1960
On the occasion of the children's festival (Mid-Autumn Festival), Quan Doi Nhan Dan (Peope's Army) published the article "Mid-Autumn will be bright in both regions," which he wrote under the pseudonym Chien Si (Soldier). 
He said, "The Autumn moon is so beautiful but it hasn't lit the two regions yet because the enemy has divided the country. But they can't forever usurp the Autumn moonlight of Southern children. The Vietnamese people will defeat them so that the Autumn moon will light the two regions and Southern and Northern children will sing and dance together, and play follow-my-leader."

By Duong Trung Quoc* and his assistants
* The author is a historian and member of the National Assembly