1920
Nguyen Ai Quoc left lawyer Phan Van Truong's house for a meeting of the Committee of Third International in District 14 of Paris, France.
Also participating in the meeting were patriotic scholar Phan Chu Trinh and some other Vietnamese living in France.
1945
In "Self-motivation in people's committees" in Cuu Quoc (National Salvation) magazine, President Ho Chi Minh was critical of the inflexibility and poor motivation of the Government's apparatus.
He wrote: "Members of people's committees must be equipped with strong self-motivation but must avoid unsystematic actions."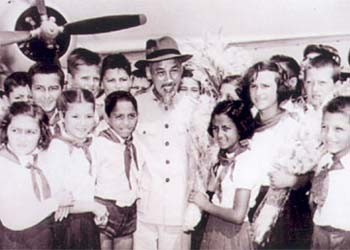 President Ho Chi Minh with Romanian children during his visit to the country in August 1957 (File photo)
1947
In a "letter to South Vietnamese in the French army," the President affirmed: "Southern people are well known for their patriotism and heroism, and that has been proved through their performance in the last two years of the resistance war.
"A number of Southern people have helped the country in their own way: to join the French army and take actions to help the nation's resistance from the very heart of the enemy. Those people, when remaining in the enemy's army, should seek every way to assist our army. They should also quit the French army and join the revolutionary force when they have a chance. The Government and people will always welcome them."
1953
Speaking at a conference of cadres working behind the enemy lines, the President put emphasis on getting the public together.
He wrote: "Like others, Catholic people are patriotic. If we patiently persuade them to act for the sake of the country, they will certainly give us support. That way, we will partly break the enemy's sabotage schemes and help boost solidarity among the people to serve the resistance war.
"People having joined the enemy's army are people who are enticed by the enemy. If we can cleverly make them aware of the enemy's conspiracy of "using Vietnamese to fight Vietnamese," we will make them split from the enemy, smash the enemy's conspiracy and achieve victories."
He also sent an open letter to French young people who were attending the World Youth Congress in Bucharest, Romania.
The letter read: "Only French colonialists and American interferers are those who must bear responsibility for the ongoing unjust war, which has caused so many hardships and death to the French, as well as Vietnamese people. We must be side-by-side in a struggle to fight our common enemy. There is one way can we achieve our common goal: friendly cooperation on the basis of independence, freedom and peace and for the sake of legitimate interest of both countries."
1959
In an interview with the Japanese Asahi Shimbun newspaper, the President for the first time confirmed the Government's point of view on the relationship between Vietnam and Japan.
He said: "The crucial issue in the relationship between the two countries is not the claim for compensation, but is, and is above all things, the solidarity and cooperation between the Vietnamese and Japanese peoples in opposing wars and protecting peace.
       
"The Government of the Democratic Republic of Vietnam hopes that the relationship between two peoples is always fine and will more and more develop. If trade between Vietnam and Japan is improved, it will have a good prospect and benefit both peoples."
1968
Attending the first summing-up conference of commandos, the President praised them as a force that had gained big victories as they were "specially warlike, extraordinarily brave, daringly ingenious, and skillful in attack."
By Duong Trung Quoc* and his assistants
* The author is a historian and member of the National Assembly