1945
Attending the opening ceremony of a training course for continuing-education teachers in the North, President Ho Chi Minh said: "Now that the Government is still poor, we have to rely on the public's support for continuing education. Fighting illiteracy is like fighting invaders."
In "Tolerant but not feeble" published in Cuu Quoc (National Salvation) the same day, Ho Chi Minh wrote: "We should see French colonialists as the main enemy that we need to wipe out; as for French people who recognize our country's independence, we should treat them with friendship and protect their lives and assets in Vietnam.
"As for former mandarins, except dishonest and cruel ones, the Government of the Democratic Republic of Vietnam treats them with tolerance, not holding them responsible for their previous wrongdoing.
"Such treatment by the Government proves that its only goal is to bring total freedom and independence to the people..."
The article concluded: "We must be tolerant but not feeble. Only that way can we really protect the country's rights and interests."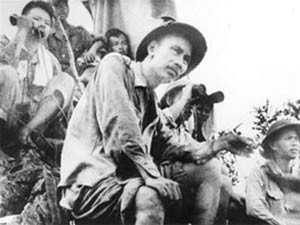 President Ho Chi Minh at the Dong Khe front in northern Cao Bang Province in 1950 (File photo)
1947
After knowing French troops had launched an attack on the Viet Bac base, the President issued a document in which he pointed out that the enemy wanted to concentrate their forces on Bac Kan to create an "umbrella" to besiege and annihilate the troops in Viet Bac.
He concluded: "They wants to attack us with a pincer movement, but when that pincer movement is broken, their 'umbrella' will fall and become a tattered and torn one."
The President completed his book titled Reforming Working Styles, in which he emphasized that "if we have good officials, we can get anything done."
He wrote: "To make the best use of talents, we must correct our leadership style …. We must be aware that we should only do things that benefit the people and avoid doing anything harmful, no matter big or small.
"Anything that can help people overcome difficulties, improve society's productivity, and get rid of the enemy's yoke of suppression can be considered creative work.
"Anyone who are determined to serve the people by trying to learn and work hard will become persons who have a lot of initiatives and can do things that are useful for human beings."
1950
The President sent a letter to praise and encourage the combatants who defeated and eliminated a French corps led by Lieutenant Colonel Le Page in Dong Khe of northern Cao Bang Province.
He wrote: "Since the beginning of the resistance, this is the first battle in which our troops had to fight for many days in a row. It was a big challenge and you have bravely overcome 70 percent of it. Continue your task by eliminating another corps led by French Lieutenant Colonel Charton. The commander-in-chief and I have agreed to entertain all of you with a beef dinner."
1952
In "The International Spirit" in Cuu Quoc, the President expressed the feelings of the Soviet and Chineses peoples towards the Vietnamese resistance war.
"That international spirit is one of the advantages that has helped us succeed in the resistance war and build the country."
1961
Attending a conference to review the campaign for agricultural cooperation in mountainous areas, the President said: "We must strengthen national solidarity, pay attention to training and employing officials in mountainous areas, step up production, practice thrift, improve people's material and spiritual lives, heighten revolutionary vigilance, and ensure order and security…"
By Duong Trung Quoc* and his assistants
The author is a historian and member of the National Assembly