1941
In "Women's Song" in Viet Nam Doc Lap (Independent Vietnam) newspaper, Nguyen Ai Quoc mentioned examples of Vietnamese women in the nation's history, from Hai Ba Trung (two Trung sisters) who were national heroines and died in 43 AD, to Nguyen Thi Minh Khai, one of the leaders of the Indochinese Communist Party between 1930 and 1940.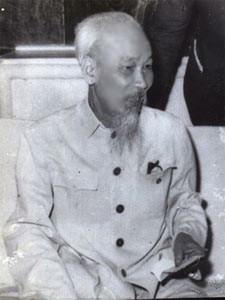 File photo of President Ho Chi Minh
In this article, he launched an appeal through a poem:
Women, from younger to older generations
Unite together in the national struggle
Encourage each other to join Viet Minh (League for the Vietnamese Revolution)
Firstly to help the country and then to help yourself
You should make your names well known
Deserving to be offspring of the "Dragon and Fairy"
1945
President Ho Chi Minh invited A. Patty, the commander of the US's Office of Strategic Services unit who was in Hanoi, to a banquet held one day before Vietnam announced its independence.
Patty's memoirs read: "The president insisted on his viewpoint that at that special moment, the Viet Minh was a national movement, democratically comprising all Vietnamese revolutionary parties. Of course, he recognized that the Indochina Communist Party played a leading role in the movement for national independence but he asked that the Party's members 'firstly be nationalists before they become communists.' He wanted to seek assistance from US technical experts in building some industries Vietnam was able to manage."
1959
Addressing a ceremony for promoting some high-ranking military officials, President Ho Chi Minh advised: "As part of the building a regular army for the sake of the revolution, the Government confers military ranks to several officials in the army. To lead the army successfully, you should improve revolutionary virtues, lead a modest, simple life, get closer to the public, and become good examples in every aspect. No matter what positions we have, we must always try to become loyal and dedicated servants to the people."
1961
Speaking at a conference of international students held in Vietnam, the President talked about himself: "My education has yet to go beyond the primary level. That was because the colonialist-feudal regime held back education for indigenous people."
To make a comparison between scientific and technical advances enjoyed by his generation and those enjoyed by the younger ones, he said: "When I was 17 years old, I saw an electric light-bulb for the first time and when I was 29, I listened to radio for the first time.
"The Russia October Revolution has shed a light on our way. We did not fear colonialist and feudal forces, but we have been willing to take part in revolutionary activities and eventually the revolution was a success.
"One important task for intellectual young people is to develop education, firstly beginning with the elimination of illiteracy. In the fight against illiteracy, the driving force must be intellectual young people and that force needs to be backed by the people."
He concluded: "All this is my confidence to you - the confidence of an 'old' young people who has got much or less experience. I want to share them with you, my dear young people."
1969
As usual, on September 1 every year, one day before the National Day, the President and other leaders visited and laid a wreath at the Mai Dich Cemetery in memory of national heroic martyrs.
But that year, due to his bad health, he sent a wreath to the Martyr's Memorial and presented two flower baskets to the police team in charge of Quarter 4 in Hanoi's Ba Dinh District and to the Road Traffic Management Team 1.
Those were the last gifts he presented to officials before his death on September 2.

By Duong Trung Quoc and his assistants
The author is a historian and member of the National Assembly