1943
Ho Chi Minh was released after being incarcerated for nearly 13 months by the Chinese militarists at 30 different prisons in Guangxi Province. He mentioned the release in "Conclusion", the 134th poem of his "Prison Diary," which described his life in jail.
1945
President Ho Chi Minh held a banquet to entertain Chinese General Xiao Yun, the commander of the Chinese troops who had entered Vietnam to disarm the Japanese troops. Also attending the party was A. Patti, the head of the US's Office of Strategic Services, who was in Hanoi.
Patti's memoirs read: "The President lamented that the situation could become complicated and might worsen. But he said Vietnam would eventually be liberated from the French, Chinese, or any other country. He had a premonition there would be bloodshed in future. If the Chinese really object to Vietnam's independence, his people will resist them with weapons. And if the French's threats come true, an all-out war will occur. He said he was unhappy with the presence of Chinese troops in Vietnam."
The same day the President signed a decree to appoint the former king, Bao Dai, as a counselor to the Government.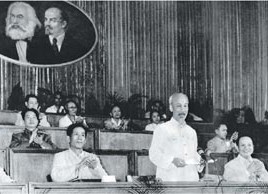 President Ho Chi Minh (standing) speaks at the third Congress of the Labor Party of Vietnam on September 10, 1960, in Hanoi (File photo)
1950
At the command post of the border campaign in the northern Cao Bang Province, the President approved the Command's selection of Dong Khe as the first point of attack in the campaign against the French colonialists. He also approved the operation plans for the campaign.
The same day, in "Reorganization of agencies and government," the President wrote: "Everybody needs to wash their face and bathe every day to keep their body clean and healthy. So do revolutionaries, particularly cadres at agencies and revolutionary organizations. They should be "clean" in terms of thought and morale and should "wash away" bad behaviors and defects. The administration and agencies should often cleanse their apparatus, wiping out unrighteous elements and opportunists. They should improve their working style to ensure their tasks are done effectively."
1960
At the third Congress of the Labor Party of Vietnam, President Ho Chi Minh was re-elected as a member of the Party Central Executive Committee and the leader of the Party.
In his speech, he said: "The second Congress has helped drive our resistance war towards victory. This third Congress will certainly create a new force and a fresh spiritual source for our Party and people to successfully build socialism in the North and continue our struggle for peace and the country's unification.
"Fifty years ago, with only 5,000 members, the Party led the August Revolution to a success. Today, the Party has more than 50,000 members and favorable conditions, so it will surely succeed in leading the socialist revolution and the struggle for the country's unification."

He concluded: "Our Party and people unite into an enormous force. We are creative; we are people of constructive minds; and we are moving forward. There will be no force that can stop us from winning one victory after another."

By Duong Trung Quoc and his assistants
The author is a historian and member of the National Assembly