1931
One day after the ninth trial of Tong Van So, an alias of Nguyen Ai Quoc, by a Hong Kong court, he sent a letter to the British Governor in Hong Kong demanding that he be let to go to Britain safely.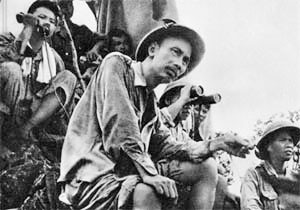 President Ho Chi Minh oversees the Dong Khe front in Cao Bang Province in September, 1950 (File photo)

The governor contacted the British Ministry of the Colonies and was advised that he should let the Vietnamese revolutionary leave Hong Kong after his release, but with no official help. The ministry also said the French should not be informed.
1945
President Ho Chi Minh attended a ceremony to celebrate the new school year at the Vietnam Politico-Military School. He agreed to take on the post of headmaster of the school and advised: "Do not forget that being engaged in the revolution is for the sake of the Fatherland and people."
Receiving some religious dignitaries the same day, the President said: "Religion cannot be liberated until the nation is liberated. There is no religious discrimination now, since everybody is a citizen of the country and has a common task: struggling for the Fatherland's independence."
Also the same day, attending a commemorative ceremony at the Ly Bat De temple (eight kings of the Ly dynasty) at Dinh Bang village in northern Bac Ninh Province, he said: "Our government is for the people, so you should act in harmony with the people's aspirations and should be thrifty to deserve being the 'children' of a country that is in misfortune."
Returning to Hanoi, the President met with the editor of Tri Tan newspaper and said: "There is a close correlation between culture and politics. Culture will not come into being without politics. In the past, our political activities were suppressed, so culture could not develop. Presently, our country has gained its independence and our people's spiritual life has been liberated, so we need to have a culture that gets along with science and in harmony with the people's aspirations."
1946
Before leaving France for the homeland, the President wrote a goodbye letter to Vietnamese living in France. The letter read: "My dear compatriots, you have expected many things from the new country of France. Now I and other Vietnamese delegates return home, but we have yet to bring independence for our nation and have yet to reach a final decision on South Vietnam. Nonetheless, you should not be disappointed with this. You should know that the future of a country cannot be built within only a few months. Let's believe in our force and in our strong determination."
1950
The President left the high command of the Border Campaign for the Dong Khe front in northen Cao Bang Province, where he instructed: "Let's try our best to achieve the first victory, no matter whatever hardship we may undergo."
1951
In "Executing ten noteworthy things initiated by the Vietnamese National Popular Front" in Nhan Dan (The People) newspaper, the President wrote: "These ten things are not mottos merely for show. To encourage everybody to get their tasks done, Party cadres and officials must lead them in a practical way and set good examples for them to follow."
1958
Visiting a political class for high school teachers in North Vietnam, the President advised: "If you're thinking ten years ahead, plant a tree. If you're thinking one hundred years ahead, educate the people. We must train good citizens for our country. The people, Party and Government entrust the teaching of future generations to you. It is a challenging but glorious task."
The same day he came to a national art exhibition, where he wrote in the visitors' book: "More endeavors are needed to achieve better performance. The art sector must exert itself to serve the people."

By Duong Trung Quoc and his assistants
The author is a historian and member of the National Assembly