1911
Nguyen Tat Thanh, a name of President Ho Chi Minh when he was young, sent a letter to the French president and minister of the colonies introducing himself as a member of Chargeur Réunis, a French shipping company, and asking to be admitted to the École Colonial School in Paris.
1921
Nguyen Ai Quoc received a newsletter from the Association for Alliance for Human Rights in which the uprising in the northern Thai Nguyen Province led by Doi Can and Luong Ngoc Quyen was highlighted in the item "War Crimes."
French spies kept tabs on his receiving the newsletter.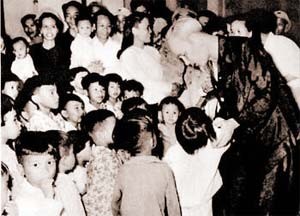 President Ho Chi Minh with children during the Mid-Autumn Festival in 1945 (File photo)
1924
Visiting an exhibition of German plastic art held in Moscow, Nguyen Ai Quoc met Swedish painter Eric Johanson and sat for a portrait.
About the meeting with the President, the painter wrote in his memoirs: "His cultured and friendly manners left an impression on me that he could become a political leader based on his knowledge and intellect."
1945
During the first Mid-Autumn festival to be celebrated by the independent country of Vietnam, the President sent a congratulatory letter to children.
The letter read: "As you have fun and joy at the festival, I would like to share the happiness with you. Why? Firstly, because I love you. Second, at last year's festival, you were child slaves, but now our country has been liberated and you have become "little citizens" of an independent country. On this occasion, I have nothing else to offer you but hundreds of affectionate kisses."
1948
The President signed a decision to assign Dr. Pham Ngoc Thanh to go south for taking care of issues related to the resistance war.
He also sent a letter to the members of the Administrative Resistance Committee, saying "in everything we do, we have one only goal -- that is to serve the Fatherland, and we are working based on the principles of public-spiritedness and selflessness."
In a letter to officials and soldiers in South Vietnam, he advised: "During patriotic movements and training courses, you should enhance your strong points and correct your shortcomings to deserve to be soldiers of a democratic republic country. Your task is to safeguard the Fatherland and protect the people."
He also sent a letter to young people and children in the South, encouraging them "to go ahead bravely and deserve to be the offspring of Tran Quoc Toan" [a young national hero belonging to the Tran Dynasty].
He wrote: "You should act in such a way as to deserve to be young people and children of the Democratic Republic of Vietnam, a unified and independent country."
1960
Welcoming Guinean President Sékou Touré in Hanoi, President Ho Chi Minh said: "We are meeting each other after a long time of expectation. Guinea is more than 13,000 kilometers from Vietnam, but their peoples are very close to each other in their brotherhood."
1961
Attending a Politburo meeting held to discuss the operations of trade unions, the President complained that "some trade union officials have not really mixed with workers or have empathy for their aspirations."
The same day in "Spark" on Nhan Dan (The People) newspaper, the President assessed the anti-war actions among the Saigon regime soldiers as the "first sparks that signal a large fire in future."

By Duong Trung Quoc and his assistants
The author is a historian and member of the National Assembly