1945
"As an old comrade of yours," as President Ho Chi Minh put it, he wrote a letter to comrades in central province of Nghe An, stating: "We have built a democratic republic institution. This is a victory that has never been recorded in the nation's history. The nation's strength is great and no other force can be dominant over it.
"Our subversive activities against the enemy have ended and we now begin reconstructing and reorganizing our country. We may have found it easy to mobilize the public in the fight against the enemy, but we will face difficulty in mobilizing them in the course of reconstruction, since the reconstruction may hurt the interests of certain classes.
"On the other hand, we must recognize that we have little experience and less ability while there are so many tasks ahead, most of which are new to us."
He also emphasized: "We are not fearful of mistakes we may commit, but we do fear that we do not have the determination to correct them."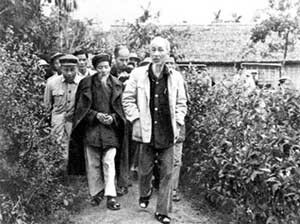 The file photo shows President Ho Chi Minh visiting his native land, the village of Kim Lien in Nam Dan District, Nghe An Province, in 1961.
1946
On the way home from France, President Ho Chi Minh stopped at Marseille port and visited two training camps in Montélimar and Magarqui. Meeting 3,000 Vietnamese workers there, he said: "On behalf of the Government and National Assembly elected by the people, I advise all of you to leave political issues to politicians to deal with and focus on serving your apprenticeship so as to contribute to the country's reconstruction. Our country needs well-trained professionals."
1964
In a congratulatory letter to the conference of northern Catholics, the President wrote: "As the Bible says, people's will is Christ's. The patriotic way you have chosen is entirely right. With unity between religious and non-religious people, with solidarity among the public, and with the determination of the entire nation, our people will surely achieve success in creating peace and unification for the fatherland and build Vietnam into a peaceful, unified, independent, democratic, and prosperous country."
1965
The President wrote "It's truly an honor!" on Nhan Dan (The People) newspaper in response to the praise the world community had heaped on the Vietnamese revolution.
He cited Roussel, a British intellectual aged over 90 then, as saying: "Vietnam has become a symbol for resistance against an exploitative system. The Vietnamese are conducting a special war, in which the world's most powerful industrial country has deployed all its force to invade a small agricultural country, but that little country, with primitive weapons and strong determination, has defeated the invader."
The President concluded: "We are proud of it and will act in such a way to be deserving of the support and respect being shown to us by millions of friendly people around the world.
"We are determined to inherit and promote the nation's long-standing glorious history and set a good example for our offspring to follow. Despite whatever hardships we may have to endure, we have the determination to defeat the American invaders to claim true independence and sustainable peace for our country."
By Duong Trung Quoc and his assistants
The author is a historian and member of the National Assembly