1930

Nguyen Ai Quoc (an alias of President Ho Chi minh during his revolutionary activities from 1920-1939) carried out a research on "Revolutionary movements in Indochina."
In the research, depicting details on fighting forms of Indochinese peoples, he w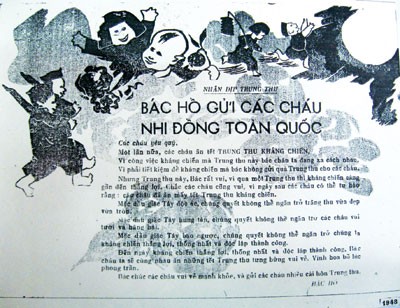 The letter President Ho Chi Minh wrote to chidren on the occasion of The Mid-Autumn Festival in 1948. The letter background was decorated by painter Phan Ke An (Photo: Thanh Nien Newspaper)
rote that Indochinese peoples' struggle against French imperialism had become fiercer. He called on "Workers and peasants around the world! Our brothers! Help Indochinese workers and peasants who are fighting against French imperialists!"
1945
Talking with the old regime's guards who supported the government of the Democratic Republic of Vietnam, President Ho Chi Minh said: Everybody understands and knows about your patriotism and enthusiasm. Fellow guys! Serve the Government in accordance with your ability and situation. The Government always takes care of the nation's talents."

This day fell in the Mid-Autumn Festival, the President wrote a letter to children: "It is Ho Chi Minh who is talking with you… Today is your Tet Trung Thu (Mid-Autumn Festival). It is also your demonstration to express your patriotism and support to the country's independence. You must be obedient, listen to your parents at home, study hard at schools, respect friends. You must love the country. I hope that you will be good citizens of an independent country when you become adults."
On the same day, as an old friend the President wrote a letter to the elderly.
In the letter, he wrote: "There is a Vietnamese expression: old age ends talent. And old people often think it is true. Facing challenges, they say: 'old men should be satisfied with their lot.' I don't agree with this opinion. Since the old times, patriots have never sat still. We have Ly Thuong Kiet who was healthy and hearty, more heroic in old age. Nowadays, the young are shouldering difficulties. We are old people who cannot work hard so we must be examples for encouraging the young to follow and share our experience. Old people must unite together as an example for children." 
Also on this day, President Ho Chi Minh signed a decree to establish the Committee on the Draft State Constitution, including seven members, among which were Ho Chi Minh, the former king of Vietnam - Bao Dai, Dang Thai Mai, Vu Trong Khanh, Le Van Hien, Nguyen Luong Bang and Dang Xuan Khu. 
In an article, "Today's war form," in Cuu Quoc (National Salvation), President Ho Chi Minh diffused popular military knowledge and concluded: "Today, war is complicated and more difficult. We cannot win if we do not use people power in every aspect."
1958
President Ho Chi Minh visited Bac Hung Hai irrigation work and encouraged people to take part in the work. He said: "You should try to work hard for several months and then you can enjoy happiness for along time."
1967
The President sent a praising letter to Vinh Linh people who shot down two US B-52 bombers and said: "Bring into play the traditions of unity, bravery, unyieldingness in struggle and production and achieve victory."
By Duong Trung Quoc* and his assistants
* The author is a historian and member of the National Assembly