1923
Nguyen Ai Quoc wrote a "Report to the Communist International" on the political and social situation in Indochina. He provided detailed analysis on the life of people and how to achieve a revolution in Vietnam.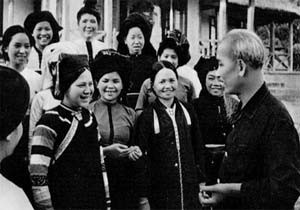 President Ho Chi Minh meets ethnic minority women in Viet Bac in 1959 (File photo)
He wrote: "The Hue royal court and officials in Vietnam are absolutely dependent on the French colonialists. They are despised by their French 'boss' and the Annamite people. A minority of intellectuals and Confucian scholars are nationalist revolutionaries, who have instigated many uprisings in the past.

"Workers may account for 2 percent of the population. They have no education and are unorganized, so they have no political voice. Farmers are the most miserable as they are exploited the most, but they are also the most patriotic. If we succeed in revolutionary propaganda and organize workers into a strong force, we will be the ones to decide our future."

The report was seen as the first indication of his political line. In the report, he also expects to set up a small newspaper in Vietnamese, assemble revolutionary nationalist elements, and send revolutionary cadres to Moscow.
1941
In the poem "Children" on Viet Nam Doc Lap (Independent Vietnam) newspaper, Nguyen Ai Quoc wrote:
Children are like buds on plants
It is good if they can eat, sleep and study well
Unfortunately, our country's miserable conditions
Have driven them to suffering
Who can be blamed for that situation?
The cruel French and Japanese invaders
They made us lose our country
Children have to live on fortune's alms
So they should get together
Along with adults in fighting the enemies
When invaders are wiped out
Children will be credited for their contribution
1945
President Ho Chi Minh attended a Government Council meeting to discuss several important policies, including on labor, finance, wage, and diplomatic relations with France, China, and the US. The meeting also considered the demands of the disarmed Japanese troops.
1954
The President wrote a letter, published on Nhan Dan (The People) newspaper, to soldiers and their families who had left the South for the North to take part in revolutionary activities. It said: "To execute the treaty on armistice, you had to leave your native land. However, it has got you closer to the Party, Government, and Northern people and soldiers.
"The South and North belong to the same family. When peace is restored, our country is reunified, and our nation gets independence and democracy, you will be able to return home. At that time, I and other representatives of the Northern people can go South to visit our beloved Southern people.
1959
Attending a Politburo meeting on the revolution in South Vietnam, the President advised: "We should make known to the public that our resistance war is a protracted one, so overhasty actions should be avoided. We must expand the guerilla war and build revolutionary bases in forest and mountainous areas, and we must be on high alert for enemy attacks.
"In urban areas, we must launch a comprehensive struggle against the enemy in every aspect, including economic, political and military, and carry out propaganda among the public and court support among the enemy's troops. If all these tasks are done, we will succeed in protecting the North. We should also strengthen the Party organization and improve the Fatherland Front's operation.

By Duong Trung Quoc* and his assistants
* The author is a historian and member of the National Assembly