1945
President Ho Chi Minh received General E. Galleger, the head of the Allies' US Commission, in Hanoi. Also present in the reception was A. Patti, the commander of the US's Office of Strategic Services in Hua Nan, China.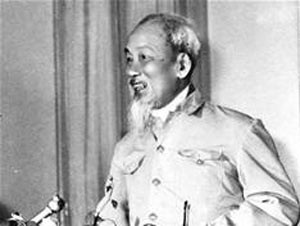 File photo of President Ho Chi Minh
At a Government Council meeting the same day, the President told them about his meeting with Chinese General Lu Han to settle conflicts between the Viet Minh (League for the Independence of Vietnam) and the Chinese Nationalist Party troops. The meeting also discussed the relationship between Vietnam and the US and suggested reopening the Vietnam National University.
1946
At Port Said, Egypt, one of the stops of French battleship Dumont D'Uvrille aboard which President Ho Chi Minh traveled on his return to Vietnam, he wrote to his close French friend Raymond Aubrac, who hosted him during his stay in France.
He also wrote a reply to Ms. Chossis, a member of the French Women Union, who sent him a letter dated September 14, 1946, expressing the general state of mind of French women whose sons were on military service in Vietnam.
The President's letter read: "You French women love your country and want it to be independent and unified. Likewise, we love our fatherland, Vietnam, and struggle for our country's independence and unification. 
"France has been occupied for four years, during which you have taken part in a resistance war, mainly a guerilla war. Similarly, Vietnam has been under the foreign rule for 80 years and our people have done the same to fight against invaders.
"If young French people come to Vietnam as technicians, intellectuals, or someone like that, I assure you they would be treated as our friends. But if they come as armed conquerors, then resistance from us would be inevitable. While one French mother is grieving for the death of her son, so many Vietnamese mothers face not only the same plight but also suffer great misery from other losses and damage.
"We must put an end to the war. We Vietnamese and you French share the same ideal: 'Liberty-Equality-Fraternity.' We have the same goal, which is to build democracy. We should support each other. If France recognizes Vietnam's independence, the French will win our hearts.
"In the spirit of 'all the men across the four seas are brothers,' I love young French people the same way I love young Vietnamese. To me, the life of a French person is as valuable as that of a Vietnamese. I sincerely want to see mutual understanding and love between young French and Vietnamese people as brothers."
1958
During a visit to Lao Cai and Yen Bai Provinces, the President told local authorities: "You must put education first. You must enlighten the public. Once people understand and follow your instructions, anything can be done, no matter how hard the tasks are."
1962
Speaking at a conference of the Vietnam Labor Youth Union in the North, the President emphasized the building of the national economy. He said: "Industry and agriculture are like two legs of a people. There is a close correlation between them. Young people must learn and improve revolutionary virtues and ethics, which can be summed up as loyalty, courage, and modesty."      


By Duong Trung Quoc* and his assistants
* The author is a historian and member of the National Assembly