1921

Le Libertaire (The Libertarian) published an article titled "First-class civilization" by Nguyen Ai Quoc. The article used quotations from a diary of a colonial soldier to lay bare the crimes of colonialists.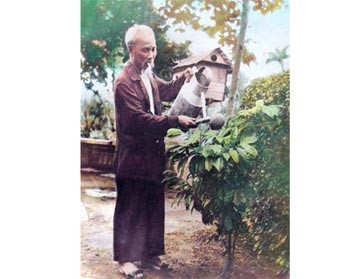 President Ho Chi Minh waters a star apple sapling
gifted to him by Southerners in 1955 (File photo)


He said: "In the name of freedom, equality, and humanity and in the name of French democracy, they are systematically poisoning Indochina."
1945
President Ho Chi Minh met Chinese General Lu Han to express his unhappiness with France's provocative actions in South Vietnam and hope China would not behave similarly in North Vietnam.
September 23 is South Vietnam's Resistance Day. Annually on this day he wrote to the Southern people to laud them.
In 1947 he wrote: "Our soldiers and people have sacrificed their lives and properties and suffered hardship for two years. [Your] patriotism is becoming more and more passionate, bravery, firmer and firmer, fighting strength, stronger and stronger, and you are more and more determined to win. You are the nation's storm troops, and the country's loveable children."
"A force of 20 million liberal people who have fought for the Fatherland and justice is surely a winning force. The Government and I along with troops and people around the country are always with you and love you."
1948
He wrote: "I believe that if we need to fight for three years or longer, we will fight to the end, because we are sure that long-term resistance will certainly win, and reunification and independence will surely be achieved."
1950
"Southern and south-central forces and people have carried on a war of resistance for five years and are continuing to consolidate the Fatherland's iron bulwark. The bulwark becomes firmer and firmer after the enemy's invasion designs. It is a result of the determination of the Southern and south-central people, generals and soldiers and people nationwide, and the solidarity of forces and people with the resistance government."
1953
"After eight years of fighting bravely, the South deserves to be the Fatherland's iron bulwark. The more arduously Southern officials, soldiers, and people fight, the more ardently they are determined to fight. The more challenges they face, the more unyielding and indomitable they are."
1948

Su That (Truth) published the President's article titled "The way to work under collective leadership and individual charge."
He said: "The meaning of collective leadership is very simple and its truth is very clear. A proverb says a team is wiser than an individual. That is what it means. Collective leadership is democratic; individual charge is focused. Collective leadership with an individual in charge means concentrated democracy. Not working that way means violating concentrated democracy."
1962
While seeing off Hartini Sukarno, the wife of the Indonesian President, who ended her visit to Vietnam, President Ho Chi Minh composed a poem which read: "When seeing [you] off, [I] would like to send a message: that friendship will never fade."
On the same day, Nhan Dan (People) published his article titled "Willing to help" on the occasion of the "Month to support Algerian people and people of countries that are fighting miserably for independence."
The article ended with a poem:
Trăm năm trong cõi người ta
(In a hundred years in this life)
Giàu lòng bác ái, ấy là người Việt Nam
(If someone is full of humanity, it is the Vietnamese)

By Duong Trung Quoc* and his assistants
* The author is a historian and member of the National Assembly