1945

Through the Voice of Vietnam, President Ho Chi Minh sent a letter to Southerners amid French colonists' provocative acts.

The letter said, "Dear Southerners. Our country has just achieved independence and is now being invaded. I am sure that people nationwide believe in Southerners' determined patriotism. We should remember the glorious words of a great French revolutionary: 'Rather death than slavery.'

We have to make the world, especially French people, know that we are open and straightforward. We [fight] for independence, not because of any grudge. We have to prove to the world that our nation is civilized, indeed, more civilized than invaders. Long live independent Vietnam. Long live Southerners."

On the same day, Cuu Quoc (National Salvation) published his article "To become a good official, one has to have a spirit of self-criticism."

He said, "[We] have to know that optimistic situations change every hour and minute, our policy is right today but might not be up-to-date the next day. If we want to take appropriate action to the situation, make similar or greater progress than others, we need to have self-image, self-educate ceaselessly, and be honest to identify our shortcomings to remedy them. Progress will be never made without self-criticism."

1947

Cuu Quoc published a letter he wrote to the people of N.L Commune in Thai Binh Province's Hung Nhan District to praise their literacy.

The letter said, "It is a result of elders' active encouragement, scholars' great assistance, teachers' decent educating and the people's hard study."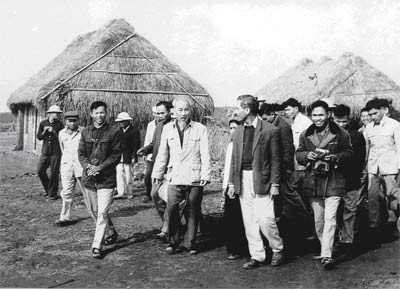 President Ho Chi Minh visits Thai Binh Province in 1962 (File photo)
1953
He attended a closing ceremony for intellectual officials at a re-educating class.
At the ceremony, he said, "It is an honor for an intellectual, as well as a heavy duty, to be an official of a heroic nation and strive in a glorious age. We have to remember the saying 'Self-improve sincerely to govern the country and pacify the realm.' Self-improvement is also a long-term hardship because it is a revolution of oneself."
1959
He took Indonesian President Sukarno to visit Hanoi University, and translated President Sukarno's talk to students.
He said, "What did Sukarno tell you? He said most of mankind's future is based on the youth, it means that you are the future masters of Earth. What should be done to be fit masters? You can't sit folding your arms to be masters, but [you have to] one, show close solidarity; two, try to study hard; three, work hard; [and] four, overcome all difficulties to win and acquire all sciences and knowledge in the 20th century."
1964
He attended a Politburo meeting to discuss resistance against the US after events at the Gulf of Tonkin and the US's bombing of the North on August 5.
He warned of a readiness to counter the worst situation and that the US' plot of destroying the North was not a strategy, but a stratagem.

By Duong Trung Quoc* and his assistants
* The author is a historian and member of the National Assembly