1925
In a letter, "Reply to schoolgirl X," published in Thanh Nien (Young People) newspaper in Guang Zhou, Nguyen Ai Quoc voiced some revolutionary viewpoints.
The letter read: "Dear friend, you were mistaken when you labeled the king, mandarins, clerks and interpreters as 'anti-revolutionary'. A king can have a deep sympathy with the public's misfortune, so he would rather be a normal citizen than be a ruler of a slavish nation.
"Women are part of the people of a country. If that people is in slavery, women and their children are in slavery, too. Therefore, it is partly for the sake of women, that we have been conducting our revolution."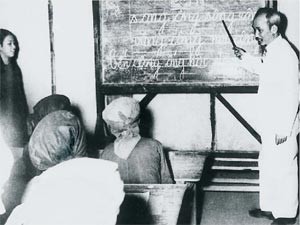 President Ho Chi Minh on his visit to a continuation class in Hanoi in 1956 (File photo)
1946
In "Wise military tactics", as part of his discussion on Sun Tzu's "The Art of War," published in Cuu Quoc (National Salvation) magazine, President Ho Chi Minh wrote: "To win a battle, we must hold the initiative all the time. Multiform military tactics of Sun Tzu are miraculous. To defeat the enemy, our actions must be kept secret, not leaked to the enemy.
"For an all-round defense, we must avoid our military plans becoming known by our enemy to keep them unaware of when and where we will launch an attack on them. If we use military tactics effectively, we can be sure of success."
1947
In a congratulatory letter to children nationwide on the Mid-Autumn Festival, the President wrote: "I promise you that I and other leaders and the entire people will try our best to continue the resistance war and wipe out colonialists, so that all of you can enjoy this festival as happily as you were in the two last ones."
1951
At the second conference of the Party Central Committee, the President said: "One of the problems is that some officials are bureaucratic and remain aloof from the masses. We must act in such a way that creates a connection between cadres and the public. Our activities in areas that are temporarily occupied by the enemy should be flexible. We have some weaknesses in applying experience and learning theories. We must fight against experientialism."
1954
In "The stick and the chicken" in Nhan Dan (The People), the President highlighted an opinion of a Frenchman who watched the Vietnamese people's resistance war.

The article cited the Frenchman as saying: "Every patriotic Vietnamese can act as a propagandist and make the world have respect for their nation."

By Duong Trung Quoc* and his assistants
* The author is a historian and member of the National Assembly