1920
French secret agents followed Nguyen Ai Quoc (an alias of Ho Chi Minh) who went to see doctors in Cochin Hospital and find a job in Paris.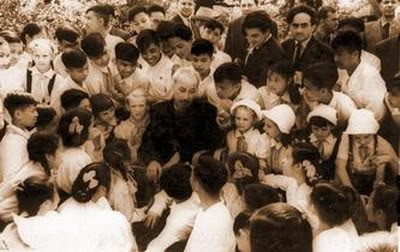 Uncle Ho talking with Vietnamese and Soviet children at the summer camp Artech, Soviet Union, in 1955
1921
French secret agents recorded that Nguyen Ai Quoc, together with patriot Phan Chu Tring and others, attended a dinner and political discourse at patriot Phan Van Truong's house at 6 Villa des Gobelines, Paris.
1922
L' Humanité published Nguyen Ai Quoc's humorous short story "Unanimity."
On the same day, Nguyen Ai Quoc attended a meeting of the editorial board of Le Paria newspaper at its headquarters.
1930
Nguyen Ai Quoc wrote a letter to the executive committee of the Communist International. The letter reported on the Soviet movement in the central province of Nghe Tinh and struggle in southern provinces and savage repression by French colonialists.
He called on the executive committee to help Vietnamese people's fight: "We urgently call on comrades to try your best to help victims of bloody repression.
"Please tell us what we can do and what you can do to help them via the Red International Relief Association".
1938
Nguyen Ai Quoc left the Institute of Colonial Issues, under the Orient Board of the Communist International. A short time later he secretly went to southern China.
1944
Ho Chi Minh returned to Pac Bo, Northern Province of Cao Bang.
After listening to a decision to carry on a general uprising by the Cao-Bac-Lang joint committee, Ho Chi Minh asked the committee to delay the uprising to avoid losses because the chance was not yet ripe.
1951
Replying to a letter by 300 Christian puppet soldiers asking for forgiveness, President Ho Chi Minh said in a letter: "For puppet soldiers, the Government forgives all those returning to the nation and awards those who redeem faults with feats of arm.
"Puppet soldiers are also citizens of the country but who are misguided. So the Government and I are ready to forgive those who know their faults and return to the people."
1953
The President presided over a meeting of the Politburo to discuss the Winter-Spring operation. After listening to General Vo Nguyen Giap's report on the enemy's status, the President judged: "The enemy is intensifying its strength by concentrating mobile forces. We are not afraid. We will force them to scatter their combat troops so that they lose their strength."
His unwavering command led to the victory of the Winter-Spring Operation (1953-1954) and the hugely significant Dien Bien Phu Victory.
1962
Visiting Quang An Commune, Tu Liem District on banks of West Lake in Hanoi, President Ho Chi Minh advised: "To have good health, we must follow sanitation rules. To keep hygiene we must have clean water. To have clean water we must dig wells."
He presented Quang An Commune a sum of money from his savings to dig a well.
By Duong Trung Quoc* and his assistants
* The author is a historian and member of the National Assembly