1945
At the first meeting of the Government Council, the President set forth urgent tasks for the Democratic Republic of Vietnam.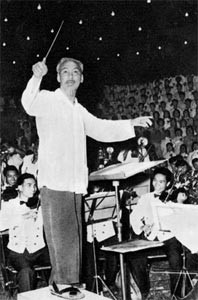 President Ho Chi Minh beats time for the song "Unity Creates our Strength" at a night festival held in Hanoi on September 3, 1960 for the capital's young people and visiting international delegations (File photo)
He said: "We should eliminate starvation by a campaign to setup up production and encourage everyone, everyday, to contribute rice equal to a meal for a rice fund for the poor.
"Since an illiterate nation is a feeble one, I recommend a campaign to fight against illiteracy be launched.
"The country needs a democratic constitution. I want the Government to organize, as soon as possible, a general election in the form of universal suffrage.
"I recommend a campaign to educate the people in diligence, thrift, integrity and uprightness. The campaign will help our nation become a nation that is brave and patriotic and have a love for work – such a nation deserves to be an independent country.
"I recommend that poll-tax, market dues and quayage (a charge for the use of a quay) be abolished and a strict ban on opium smoking be effected.
 
"I suggest that the Government should announce a policy on religious freedom and a unity between people with a religious belief and those without one."
1946
During his stay in Paris, France, the President continued his diplomatic lobbying for better relations between Vietnam and France. He visited French Overseas Minister Marius Moutet and met with French journalists, parliamentarians and some members of the France-Vietnam Friendship Association.
In an interview with the AFP, he said: "I believe in the new French Government. Vietnam and France can reach an agreement for the sake of mutual support and common interests. They need to understand each other as soon as possible so that they can take practical actions."
1950
In a letter of condolence to Indian Prime Minister Nehru on the great damage an Indian city suffered after an earthquake, President Ho Chi Minh expressed his deep sympathy for the Indian government and people.
1959
The President sent a message to a conference against the French government's intention to test atomic bombs in the Sahara. It read: "The Government and people of the Democratic Republic of Vietnam vigorously support the African people's struggle, which fights against the French's atomic bomb testing in the Sahara and demands the French to respect the African people's interests and world peace."
1960
The President attended a night festival, held at the Hanoi Botanical Gardens, for the capital's young people and international delegations that came to Vietnam for the third Congress of the Communist Party of Vietnam.
At the festival, the President conducted a chorus orchestra and beat time for the song "Unity Creates our Strength."
1969
The Party's Central Executive Committee, the Government and the Vietnam Fatherland Front jointly issued a special statement notifying that the President had passed away.
By Duong Trung Quoc and his assistants
The author is a historian and member of the National Assembly