1919
An American reporter interviewed Nguyen Ai Quoc after being introduced by the Korean Provisional Government's representative in Paris.
Below are excerpts from the interview:
Q: What is the purpose of your arrival in France?
A: I come here to demand freedom for the Annamite people.
Q: How do propose to do it?
A: We will try our best and always move forward.
B: But is your country ready to do it?
A: Vietnam is in an unfortunate situation. We have had no preparations and all recent military operations have come to a failure and achieved nothing.
Q: What have you achieved since you arrived in Paris?
A: Besides a number of parliamentarians, I have also met some persons who are willing to help us.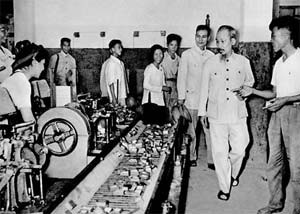 President Ho Chi Minh visits the Thong Nhat Match Factory in Hanoi in 1956 (File photo)
1920
Nguyen Ai Quoc went shopping for photographic devices needed for his job at a photo shop in Paris. The same day he attended a meeting of the Socialist Party of France's Cell 13 at a cafeteria.
1921
In "Colonialism's crimes" in La Vie Ouvière and "Monstrosity of a civilization" in Le Libertaire, Nguyen Ai Quoc denounced the crimes of the colonialist regimes in their colonies.
1943
In the Chinese city of Liu Zhou, Nguyen Ai Quoc wrote a poem in Chinese on the edge of the Guangzhou Daily newspaper.
It read:
The mountain is embraced by the cloud
The cloud covers the mountain
The river is bright like a mirror
Not being stained by dust
Strolling around Xi Feng Ling
Looking back South, missing old friends

Next to the poem are the words: "Wishing all of you good health and good work at home. I am safe and sound here."
A copy of the newspaper was secretly sent to Vietnam later.
1945
President Ho Chi Minh hosted a send-off banquet to A. Patti, the commander of the US's Office of Strategic Services, which had cooperated with Vietnam in fighting the Japanese. After the banquet, the two men had a long talk on issues of mutual concern.
Patti's memoirs read: "President Ho saw me to the door, thanked me for coming and listening to him. He put his hand on my shoulder and said 'Bon voyage.' Hoping I would return soon, he said 'You are always welcome.'
"When I left in the car, I saw him still standing at the door, waving. At that time, I recalled the meeting between us at a tea shop in Chiu Chou Chieh."
1960
To mark China's National Day (October 1), Nhan Dan (The People) newspaper published a sentence in Chinese written by the President. It read: "The friendship between Vietnam and China is green forever."
1964
At a congress of the capital's youth, the president advised: "Young people must study politics, culture, science and technology. Good leaning makes practice easy. Studying and practicing well will help young people fulfill their revolutionary tasks. The capital's youths must set good examples in every aspect for others across the country to follow."
By Duong Trung Quoc* and his assistants
* The author is a historian and member of the National Assembly