1919
 
Le Populaire (The People) in Paris published an article titled "Indochina and North Korea" written by Nguyen Ai Quoc.
 
The article discussed an important issue of the post-First World War.
It said, "The world will have peace only when all nations agree to come together to annihilate imperialism, wherever they see it. While waiting for that day, at present, they [Indochina and North Korea] are still victims of imperialism, and require, in the name of national principles, to have the right to decide for themselves and their voices have to be listened to with warm affections by European and American people."
 
1945
 
President Ho Chi Minh signed Decree No.4 to establish the Independence Fund to receive money and objects from people who are willing to assist the Government and support the nation's independence."
 
Do Dinh Thien, a bourgeois, was assigned to be in charge of the fund.
 
As part of the fund's program, 'Gold Week' was launched, which brought invaluable financial resources and public support.
 
1947
 
At a military base, he received Pham Khac Hoe, a former cabinet member of Emperor Bao Dai, who had just left an enemy-occupied area to join the resistance.
 
In Pham Khac Hoe's memoirs, he wrote when hearing that the decisive factor making him join the resistance was image and prestige of the leader, Uncle Ho disagreed and said, "The decisive factor is inside you. It is your patriotism."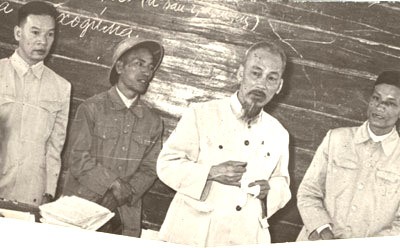 President Ho Chi Minh (2nd,R) and Prof. Nguyen Van Huyen (1st, L) visit a Russian language class in the 1955-1956 school year (file photo)
1949

He signed Decree No.102 to establish the Education Council to help the Ministry of National Education to form educational policies and plans.  
The council was headed by Prof. Nguyen Van Huyen, with many members who were well-known patriotic personalities and intellectuals, including Ta Quang Buu, Truong Chinh, Tran Van Giau, Vu Dinh Hoe, Tran Dai Nghia, Ca Van Thinh, Nguyen Xien, Tran Duc Thao, Hoang Dao Thuy, Pham Huy Thong, Le Thuoc, Buu Hoi, Bui Ky, Hoai Thanh and Dang Phuc Thong. 
1951
Cuu Quoc (National Salvation) published his article "Skirmish and Great War." 
He said, "The US war in North Korea is a bottomless pit and has no hope of success." 
1954
Nhan Dan (People) published his reply to the Chinese Ambassador's credentials at the credentials presenting ceremony, held in Viet Bac base.  
He said, "Because of geographical, economic, cultural and historical ties, our countries are fraternal countries. Especially since the People's Republic of China was established, that relation, like lips with teeth, has developed further and more warmly. 
"Now, peace has returned, our [referring to Vietnam] duties are strictly implementing armistice, consolidating peace, uniting the country, completing independence and democracy nationwide, while concurrently living peacefully with Southeast Asian nations, showing mutual solidarity and assistance, and together with them keeping peace in Asia and the world. " 
1968
He received valiant teenagers, who were visiting from the South, at the stilt house at the President's Palace.
By Duong Trung Quoc and his assistants
The author is a historian and member of the National Assembly