1946
After meeting one of his close French friends, Raymond Aubrac, President Ho Chi Minh and his entourage returned to the Royal Monceau Hotel, where the French Government had arranged for their stay.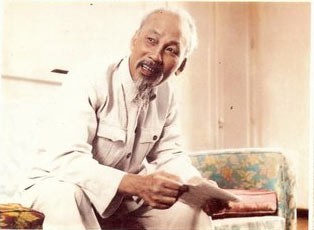 File photo of President Ho Chi Minh
Since the timing was of essence for the success or failure of the Fontainebleau Conference, the President stepped up meetings with many French politicians and made contact with some important members of the French Government.
1950
In an "Appeal to compatriots in Cao-Bac-Lang" (Cao Bang, Bac Kan, and Lang Son Provinces), the President wrote: "Our troops have launched a military campaign at the Cao-Bac-Lang front, which is very important not only for the provinces but also for the whole country.
"People in these provinces have contributed a lot to preparations for the campaign. You have donated food, repaired roads, transported supplies, supported soldiers, etc. On behalf of the Government, I respectfully thank all of you very much. You should continue to set a good example for the entire country to follow for the sake of our resistance war."
1952
President Ho Chi Minh signed a decree announcing "Eight imperative instructions by the Government of the Democratic Republic of Vietnam."
They included:
1. Protecting people's lives and assets …
2. Protecting people's livelihoods …
3. Confiscating the assets of French invaders and traitors to the country …
4. Defending temples, pagodas, churches, schools, hospitals, and social and cultural agencies …
5. Rewarding people for good service and punishing those committing crimes …
6. Keeping order and security …
7. People, especially peasants, must be reorganized …
8. Protecting the life and assets of foreigners living in Vietnam …
The decree concluded: "The People's Army's discipline is very strict and clear… Our soldiers never usurp people's assets, not even a needle or thread…"
Attending a conference on preparation for the Tay Bac (Northwest) campaign the same day, the President said: "Today it has rained heavily, causing floods. Arriving at a swift-flowing stream, I saw some people wanting to cross it but they had to wait for the low tide. I thought if I did the same, you would wait for me for long. So, I, along with some men, decided to cross it using poles and sticks. Finding that I could cross the stream, those people were determined to follow me. That is a piece of experience for you. If we have strong determination, we can get anything done, no matter big or small, and we can encourage others to follow us to do the same.
"Such determination must be based on profound confidence and not empty words. Such determination must not be based on meetings but on practical action.
"We must build a brave fighting spirit. We must object to bad acts, shaky stances, selfishness, and false reporting."
In "Nobody can hide the truth" on Cuu Quoc (National Salvation) magazine the same day, the President cited a statement by an "extreme colonialist" who knows thoroughly about the situation in Vietnam: "I support King Bao Dai very much. However, through what I can see in Vietnam I cannot help saying that 'no true Vietnamese follows in the steps of Bao Dai. The situation in Vietnam is very serious. The French should realize this soon or they will fail".
The President concluded: "Thus, cunning as colonialists are, they cannot hide the truth, which is that our resistance war will surely achieve success."
By Duong Trung Quoc and his assistants
The author is a historian and member of the National Assembly