The heads of 10 firms in Ho Chi Minh City have allegedly absconded this year after failing to pay their workers' salaries totally worth a few billion dong, the HCMC Labor Union said October 21.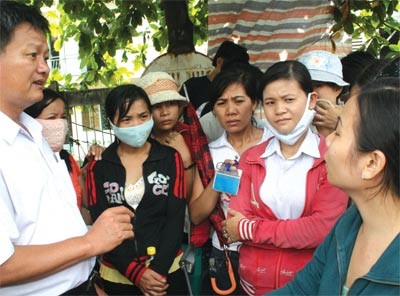 An official (L) from the Thu Duc District Labor Union speaks to workers of Hai Vinh Company who have not been paid wages (Photo: SGGP)
The firms are Sin B, S/M, Hoang Tam and Huynh Tam companies in District 12; Hoang Nghiep, Chan Dat ,and Dieu Tan in Binh Tan District; Phu Huu and Kentwen in Binh Chanh District; and Yu Jun in District 8.
 
Two other firms, Anjin Footwear Company in Binh Tan and Hai Vinh Company in Thu Duc District, have closed because of their inability to pay salaries.
 
Lin Shih Ming, director of Taiwanese garment company Yu Jun, allegedly fled Vietnam on October 8 without paying his workers. The company's workers and district agencies have tried several times to contact him since but in vain.
 
Officials from the city Planning and Investment Department visited the company on October 20 to investigate but there was no one from the management to receive them. The company has remained closed for a while now.
                                                    
Mr. Ming had cleaned out the VND1 billion (US$56,000) from the company's account at the First Commercial Bank.
 
The company owes workers over VND1 billion in back wages and VND500 million to another company from which it rented facilities.
 
Around 500 workers have given the District 8 Labor Union the power of attorney to sue the company on their behalf.
 
In mid-September, official agencies also liquidated Hoang Tam Company to raise money to pay its workers after its director "disappeared" suddenly without paying three months' wages.
 
The director of Huynh Tam Company too allegedly skipped recently. The company owes workers two months' salaries and had promised it would pay them by the end of November. Most of the company's assets were found gone soon after the boss went missing.
 
Authorities at a loss
 
Official agencies and the media know most of these enterprises well since they have a history of violating labor laws and not paying salaries and social insurance in time.
 
They had frequent disputes with their workers who struck work often and took them to court.
                                                                  
Yu Jun Company has been asked to pay its workers VND1.8 billion by the District 8 People's Court but it has yet to carry out the order.
 
The city People's Committee had ordered the Labor, War Invalids and Social Affairs Department to work with relevant agencies to resolve the issue.
 
The department suggested that the Department of External Relations should contact the Taipei Economic and Cultural Office in the city to pressure Mr. Ming into settling the dues.
 
Even as the labor department was waiting for the People's Committee to approve its suggestion, Mr. Ming appealed against the court's decision and apparently disappeared.
 
Though there are several signs he will not return, official agencies are still unable to determine if he has indeed skipped because Mr. Ming has left Vietnam 97 times since he arrived in the country to start his business.
 
The fate of the firm's 500 workers remains in limbo.
 
Authorities remain unsure about what to do since there are no guidelines for determining when a businessperson has "absconded."
 
Only three of the 10 firms whose bosses have gone missing have fully paid their workers.