The 10th congress of the Ho Chi Minh City Party Committee in the term 2015-2020 opened at the City Hall this morning with the attendance of General Secretary Nguyen Phu Trong, who made a statement to instruct the congress.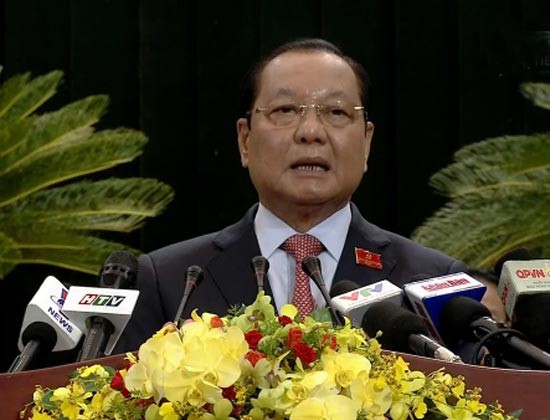 HCMC Party Secretary Le Thanh Hai states at the 10th congress opened on October 14 (Photo: SGGP)
Attending the congress was former General Secretaries Le Kha Phieu and Nong Duc Manh, former Presidents Tran Duc Luong and Nguyen Minh Triet, former Prime Minister Phan Van Khai, former National Assembly Chairman Nguyen Van An and other central and municipal leaders.
Besides, there were revolutionary veterans, Vietnamese heroic mothers, armed force and labor heroes, patriotic personalities, intellectuals, and religious dignitaries.
According to the congress' agenda, in the morning delegates will listen to a congress opening speech and presentation of documents by the 9th Party Committee.
In the afternoon, the congress' presidium will review the leadership and guidance of the 9th Party Committee and delegates will discuss at their groups.
Yesterday, the 10th HCMC Party Congress in the term 2015-2020 held a preparatory meeting at the City Hall with the attendance of 445 delegates who are representative for 200,000 Party members from 67 Party organizations in the city.
Mr. Nguyen Tan Quyen, member of the Central Party Committee and deputy chairman of the Central Supervisory Committee, also attended the meeting.
Delegates voted on the 10th congress's agenda and working regulations from October 13-17.
They also voted on 19 members of the presidium, the five-member verification board on delegate qualification and the five-member secretarial group of the 10th congress.
On the sideline of the congress, a delegation of the city top leaders and the congress' delegates, led by Le Thanh Hai, Politburo member and the city Party committee secretary, laid a wreath of flowers at the late president Ho Chi Minh's statue.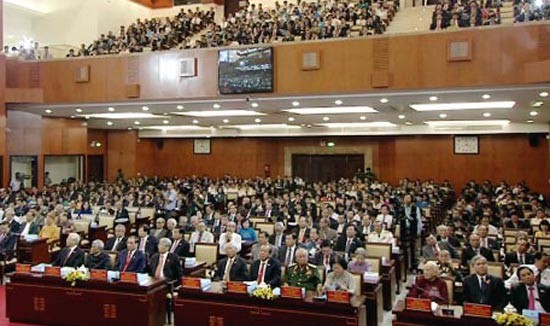 Delegates at the 10th HCMC Party Congress (Photo: SGGP)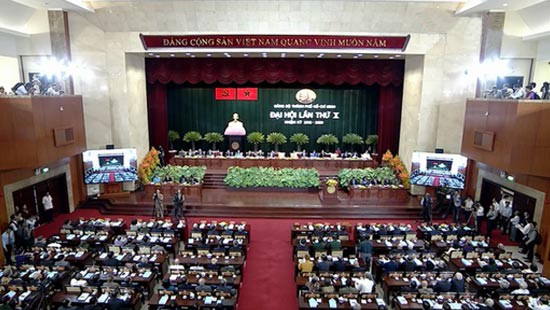 An overview of the congress (Photo: SGGP)