The Ho Chi Minh City Party Committee and government attach great importance to improving the city's workforce, People's Committee deputy chairwoman, Nguyen Thi Thu Ha, has said.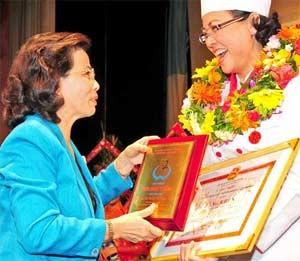 HCMC Party Committee deputy secretary Huynh Thi Nhan presents the Ton Duc Thanh Prize to Tran Thi Minh Tam, chef at the five-star Ben Thanh Hotel (Photo: SGGP)
Speaking at a ceremony to confer the 2009 Ton Duc Thang Prize at the Ben Thanh Theater on August 17, she called it one of the key factors in the city's industrialization and modernization efforts.
The annual award, given to 11 outstanding executives for their good performance, comprises a medal, a certificate of merit, and cash prize of VND20 million (US$1,100).
The event was attended by more than 700 city workers and trade union representatives.
Also present were Huynh Thi Nhan, a member of the Party Central Committee and deputy secretary of the city Party Committee; Nguyen Huy Can, the chairman of the city Federation of Labor; and Tran The Tuyen, Editor-in-Chief of Sai Gon Giai Phong Newspaper.
Hailing the winners, Ms. Ha said: "They have not only strived to perform well in their jobs but also contributed to training workers for the city."
"Their efforts have boosted the Party Committee's program to build a stronger worker class," she said.
She called for launching more emulation movements among workers to create a momentum for achieving the city's social and economic targets under the 2006-10 five-year plan.
"To be creative, you must have great love for your job. Your creative efforts must be based on the practical demands of society," said prize winner Nguyen Tuan Viet, a foreman at the Saigon Passenger Transportation Co., Ltd.
Mr.Viet's technical solution for making buses disabled-friendly has been used by the Vietnam Road Department and praised by the public.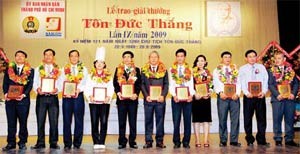 The 11 outstanding HCMC executives who won the 2009 Ton Duc Thang Prize on August 17 (Photo: SGGP)
Tran Thi Minh Tam, another winner, a chef at Ben Thanh Hotel, said: "I do my best to turn local materials like rice and spices into delicious food. I always seek ways to promote Vietnamese food."
Ms.Tam's efforts have contributed to the development of the five-star hotel which is well known for its food.
Commenting on the prize winners, Mr. Can said, "They share virtues like diligence, trying to apply advanced techniques in their work, leading a simple life, and eagerness to perfect themselves."
List of Ton Duc Thang prize winners
Doan Van Ha: Head of the Quality Management Department, Hung Vuong Construction Co., Ltd
Ngo Quyen: Head of the power grid team, the High-Tension Electricity Enterprise
Nguyen Manh Ha: Head of the testing department, Phong Phu Pharmaceuticals Joint Stock Company
Nguyen Tuan Viet: Foreman, Saigon Passenger Transportation Co., Ltd.
Tran Minh Duong: Deputy director, Southern High-Tension Electricity Enterprise
Nguyen Trong Linh: Technician, Nam Phat Industrial Joint Stock Company
Nguyen Van Dan: Head of the welding team, Sabeco Mechanical Co., Ltd.
Vo Phuc Nguyen: Deputy head of the operating technique team, Eastern Electricity Transmission Company
Tran Thi Minh Tam: Chef, Ben Thanh Hotel
Nguyen Van Si: Technician, Lidovit Trading & Industrial Joint Stock Company
Ho Thi Ngoc Truyen: Head of technical department, Tico Joint Stock Company