Two flames broke out in early morning on December 16 at two houses in Ho Chi Minh City's District 3, killing 12 people and leaving four seriously burnt.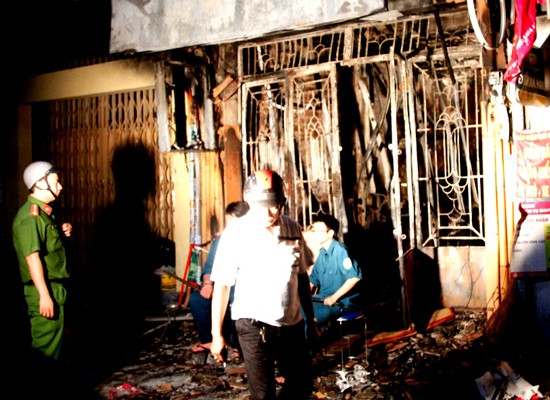 The house after the flame (Photo: SGGP)
People's Committee in district 3 and firefight police station held a press brief to report the incident. Colonel Nguyen Quang Nhat, head of firefighter force, said that after receiving the information of the fire at the house locating at 453/6 Le Van Sy Street in District 3, the station sent six engines and 42 firefighters to the scene.
It took 20 minutes to extinguish the fire.

47 year old Tran Anh Thang from the northern province of Bac Giang leased the house owned by Nguyen Ngoc Thong to run a coffee shop at its ground floor. Six family members are living together at the house including Tran Anh Thang, his wife Nguyen Thi Ngoc Thuy, three his daughters 7 year old Tran Ngoc Van Anh, five year old Tran Ngoc Bao Han, Tran Ngoc Thien Kim and his niece Pham Ngoc Thuy Vy from the southern province of Dong Nai.

The fire has destroyed all property in the house.

At the time of the incident, four laborers who were sleeping in the first floor escaped the fire however two of them suffered slight injuries and others are being treated in the Hospital 115.

Deputy Head of firefight station Colonel Doan Van Chon said that the cause of the fire is under investigation adding that it is unsafe when people stay in the house where they sell the commodity. He said that for the past time, the city had two flames in Tan Phu District killing four people and in district 12 killing 3 people.
Local government paid visits to injuries and gave relatives of dead people each VND10 million.

Meantime, on the same day, a flame engulfed a house at 453 Le Van Sy Street in district 3 killing 6 people and wounding 4 others. According to the witnesses, residents around the house discovered the fire yet they failed to inform people in the house because the main door had been locked.
After five minutes, some people in the house realized the fire; they rushed to balcony and jumped down. Firefighters were quick to arrive at the scene and it took 20 minutes to put out the flame.

Six people were reported to die in the flame and four others were rushed to emergency room; one of them is in critical condition.
Further investigation of the flame cause will be conducted.