New fifteen products are recognized as key industrial products of Ho Chi Minh City (HCMC). The products have been chosen from among 43 products of 35 businesses eligible for the program to support key industrial products of HCMC over the past two years.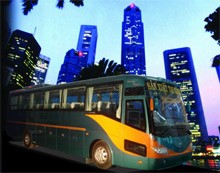 46-seat bus is manufactured by Samco
A preliminary review on the Program was held on March 15. It was aimed at analyzing experience of the past activities and discussing measures to promote the program for the future.
At the meeting, the program management board announced the selected 15 key industrial products of the City. These products will be affixed with an official logo of the program on the occasion of April 30 and May 01, 2006.


11 companies winning the key industrial product title
| | |
| --- | --- |
| Company | Product |
| Tan Cuong Thanh Cable Company | Electric cables |
| Asian Huu Lien Joint Stock Company | Stainless steel pipes |
| Viet Tien Garment Company | Garment products |
| Vina Acecook Company | Instant noodles |
| Liksin Packaging Corporation | Multi-layer packaging |
| Saigon Transport Mechanical Corporation (Samco) | Buses and specialized vehicles |
| Vietnam Electric Wire & Cable Corporation (Cadivi) | Electric cables and magnetic wires |
| Saigon Beverages Joint Stock Company (Tribeco) | Soya milk and canned softdrink |
| Saigon-Kymdan Rubber Stock Company (Kymdan) | Natural rubber cushions |
| Savico Company | Wooden furniture |
| Southern Rubber Industry Company (Casumina) | Bike tires & tubes and automobile tires & tubes |
After two years' participation in the program, those enterprises have made efforts in production expansion, technology innovation, equipment upgrade, establishment and application of progressive management measures, and promotion of brand development.
The program should be continued to carry out proposed measures to recognize more new key products as well as to support enterprises to rapidly increase their revenues, said Standing Deputy Chairman of the HCMC People's Committee Nguyen Thien Nhan.
The re-evaluation on technological level and equipment is necessary to have investments tailored accordingly which can be most effective.
The City has just invested VND30 billion (about US$1.9 million) in the establishment of a design center for new equipment. The center, expected to come into operation in April 2006, will assist enterprises in designing their new products at a lower cost.
The Department of Industry needs to further enhance the role of Ho Chi Minh City Center of Consulting and Support for Industrial Enterprises, to speed up measures to prevent illegal imitation and contraband goods. It should also provide guidance on redeeming interest rate by foreign currency for investment projects which use borrowed foreign currency, survey the needs and train human resources for sectors and industries according to requirements.
Program For Developing Key Industrial Products Of Ho Chi Minh City

Definition Of Key Industrial Products

Key industrial products must have the following standards:
• Design: modern and useful design, or cultural traditionally design.
• Quality: high quality products, prestige and well known brand name.
• Production cost: have low production cost by applying a combination of standards such as: using domestic materials advanced technologies, high productivity with low business expenses, etc…
• Production capacity: have capacity on supplying goods in large scale, with ability to access transactions accurately and quickly.
• Environment and Labor: comply with the Law on Environment Protection and the Labor Law.

Support For The Key Industrial Products

Companies participating in the Program will receive one or all of the following support:
• Support in consulting for product designation and selecting advanced technology.
• Support in consulting for improving business management level.
• Support in marketing and promotion.
• Support in training employees.
• Support in finance.

Source: HCMC-Export Center