Sixteen hotels in Ho Chi Minh City, including seven five-star ones, are taking part in a Christmas charity program that will support a school for disabled children in the city.
In the Hotels' Christmas Charity, the participating properties contribute resources and budget allocated to printing and sending greeting cards and other promotional items to business affiliates and colleagues. These things will be sent via email, and the 16 hotels will donate resources of their own.
They have agreed that the proceeds from this year's campaign go to school Education for Development in District 12. Established in 1993, the school provides special education services for more than 120 Vietnamese children who are hearing impaired, autistic, or suffer from other learning disabilities.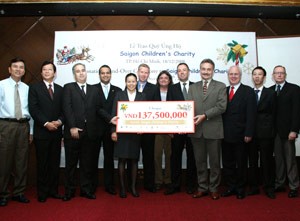 Representatives of participants in the Hotels' Christmas Charity last year present a token cheque of VND137.5 million to Saigon Children's Charity on Dec. 18, 2008 (Filed photo)
The participants in the program are the Caravelle, Majestic, Mövenpick, Equatorial, New World, Renaissance Riverside, Rex, Duxton, Kim Do, Continental, Victory, First Hotel, Grand, Saigon Star, Bong Sen Corporation and Binh Quoi Tourist Village.
Mr. Tao Van Nghe, General Manager of the Hotel Majestic Saigon, also Chairman of the Ho Chi Minh City Society of Hotels, said, "The Christmas Charity Event this year has got the greatest number of contributions from many hotels in the city.
"Obviously, more and more enterprises show their interest in social work in order to help the less fortunate in our society for a brighter future," he added.
A symbolic cheque presentation ceremony will take place at the New World Hotel on December 17.
The annual charity program started in 2005.