GDP growth rate, food hygiene and safety, slow public construction works and bus advertising were discussed on the first day of the 16th session of HCMC People's Council on July 7.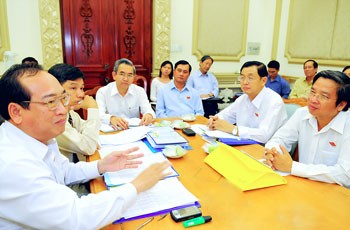 People's Council deputies are discussed.
According to deputies Dang Van Khoa and Nguyen The Thanh, GDP growth rate for the first six months of the year was 4.6 percent.
The city has seen an 18 percent drop in exports, 26 percent drop in budget income and 49 percent fall in investment capital.
Meanwhile the city's GDP growth rate had been set at ten percent in 2009. To reach this target, the city must achieve an untenable growth rate of over 15 percent in the last six months.
The city needs to adjust the target down to seven to 7.5 percent, said a deputy, Nguyen Dang Nghia.
As GDP growth rate is so important to the economy and therefore to the markets, the city will lay down other targets and policies related to investment capital distribution and interest rates, Deputy Duong Van Nhan said.
It is necessary to set a GDP rate which is appropriate to reality. The city should correct the GDP rate, he added.

Talking about the slow progress of road construction, Deputy Le Van Trung said that the city has to quickly find the reasons in order to provide solutions.
Mr. Trung said HCMC is currently facing problems in raising capital, especially for major construction works.
Deputy Nguyen Dang Nghia expressed his worries about the management of food quality, hygiene and safety.
He said that the city should consider and improve the quality of inspection staff, as they have an important role in checking and controlling food hygiene and safety.
Regarding water, the amount of clean water being lost through leakages in Ho Chi Minh City is 42 percent.
The city supplies 1.2 million cubic meters of clean water and wastes of half a million a day. Consumers will raise the voices against the city, which plans to increase water charges, if nothing is done, said Mr Khoa.
The meeting also focused on the matter of bus advertising. HCM City is so far the only place in the country to ban advertising on buses, while neighboring cities and provinces all allow ads.
Large revenues from advertising on buses could be raised for both bus operators and the city's budget, said Deputy Nguyen Ngoc Hoa.

People's Council deputies agreed, and called for the municipal council to rethink the ban on bus ads.
Related articles:
Deputies seek questions at session of HCM City People's Council
16th session of city's People's Council to open