Two Australian Navy warships, HMAS HUON and HMAS YARRA, arrived in Ho Chi Minh City Monday, beginning a five-day visit to strengthen the relationship between the navies of Australia and Vietnam.
The two coastal mine hunters came with a total of 50 officers and sailors board each vessel. HMAS HUON is commanded by Lieutenant Commander John Relyea, and HMAS YARRA commanded by Lieutenant Commander Bradley Vizard.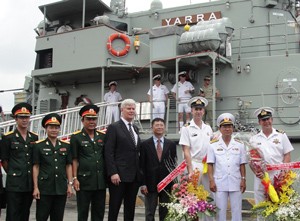 Australian Consul General Graeme Swift (4th, L) and representatives of the Ho Chi Minh City Command, External Relation Office pose for pictures with the ship captains in front of the ship HMAS YARRA in the city Oct. 10, 2011 (Photo: Thuy Hang)
Ho Chi Minh City Vice Chairman Le Minh Tri received officers and sailors representing the mission in the afternoon.
During the visit, the crew are to meet with senior officers and sailors from the Vietnamese People's Navy to engage in a range of goodwill activities and to conduct a professional exchange on mine hunting techniques.
The crew will also participate in a friendly sporting activity with cadets at the Naval Technical College and play Australian Rules Football against the Vietnam Swans at the Royal Melbourne Institute of Technology (RMIT), Ho Chi Minh City Campus. While in Ho Chi Minh City, the crew intend to conduct charity work as well as taking advantage of the opportunity to explore Vietnam's rich culture and to meet the people of Vietnam.