The two-day Youth Creative Festival opened at Ho Chi Minh City's Youth Cultural House, district 1 on January 2 with city students showcasing 2,000 science research topics and more than 500 inventions.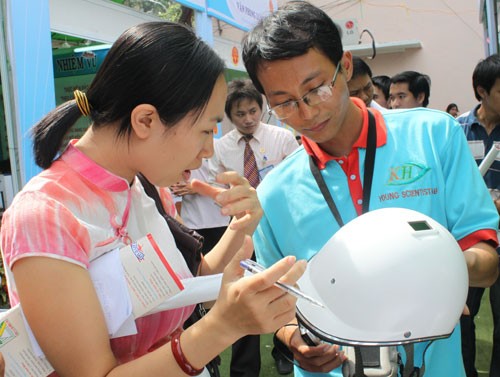 A student presents motobike helmet's new safety features at the Youth Creative Festival on January 2. (Photo: Tuoi Tre)
The event also features cultural and other activities, including a ceremony to give away prizes to young scientists, a science forum, and a robot exhibition.
Thousands of youngsters took part in a science youth forum to discuss to leaders from city's departments, sectors about activities such as education, training, creation and science research.
Deputy chairman of the city Youth Union, Bui Ta Hoang Vu, said the festival gives organizers the chance to honor young talents in the economic, social, and scientific fields, encourage their innovations, give them opportunities to introduce their works, and share their experiences.
More than 40 papers presented by students in fields like information technology, medicine, pharmaceuticals, and the environment are also being showcased.
The organizers handed over some research results to government agencies and industry for manufacture.
They also awarded prizes for best economic, social, and scientific research received for the 2009 Eureka Contest, giving away seven first prizes, nine second prizes, and eight third prizes.
The contest, held annually by the union and the HCM City National University, seeks to encourage students to come up with innovations that can be converted into technology.
Nearly 1,000 city students had sent in 502 research works.
The festival was held for the first time by the Youth Union, the city's Departments of Science and Technology, Information and Communication, Education and Training, Vietnam National University in HCMC, and Computer Association.