According to reports March 16 from Ho Chi Minh City Industrial Zone and the Department of Labor, War Invalids and Social Welfare, of 26,400 who lost their jobs at least 21,000 have found new jobs.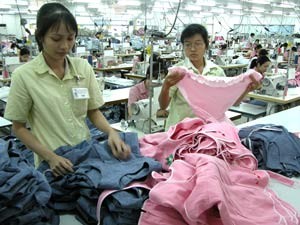 Many companies in footwear, textiles and clothing are looking for workers. (Photo: SGGP)
Most of the companies are in footwear, textiles and clothing, wooden furniture, electronics and food processing.
Many of them have been advertising widely, holding entertainment activities and offering inducements with allowances and increased salaries.
Many businesses have given priority to workers that were originally made redundant, such as Nidex Copal and Kollan as they have new overseas orders.
The director of HCM City Department of Labor, War Invalids and Social Welfare, Le Thanh Tam, said they will organize training courses for workers in mechanics, electronics, IT, and arts and crafts.
The Department also implemented government policies for supporting workers who have lost their jobs as well as continuing to develop job centers.
Searefico is completing work on a factory to produce industrial refrigeration equipment on March 16. The factory is expected to begin production this August, and will recruit more than 300 workers, with salaries of around VND4.5-5 million ($257 – 286) per month.
The Department said that 195 businesses have cut back or shut down production and reduced their workforce due to the global financial crisis.
A total of 15,520 people in the city remain jobless.