The Ho Chi Minh City-based garment company Tuong Van has recruited 214 workers, who used to be drug addicts and have finished their rehabilitation period.
The employees started working at the company's Maxgarmex Nhi Xuan Factory in Hoc Mon District on the outskirts of the city on February 17, 2006, the day the company opened the factory.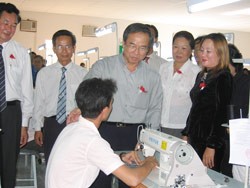 Mr Nguyen Thanh Tai visits Tuong Van Co. (Photo: M.H)
The factory, worth VND29.5 billion (about US$1.85 million), covers almost 1.4 hectares and is designed to produce 1.5 million garment items a year. The plant has more than 1,000 jobs and the company has pledged to recruit about 640 post-rehabilitation people.
Speaking at the opening ceremony for the factory, Ho Chi Minh City Vice Chairman Nguyen Thanh Tai said the Tuong Van Company was a good example in supporting the city's policy of assisting post-rehabilitation people.

Tuong Van is one of the first companies in the city to take in the people.