On the celebration of the 33rd Traditional Day of Ho Chi Minh City's Youth Union and the death anniversary of martyr, hero Nguyen Van Troi, HCMC Communist Youth Union presented the Nguyen Van Troi award to 26 outstanding young workers on October 15.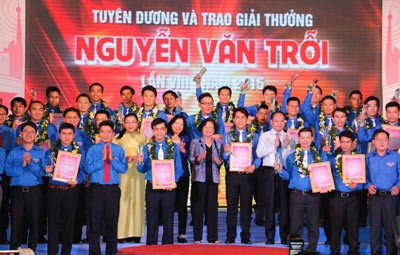 26 outstanding workers at the award ceremony (Photo: SGGP)
The 26 outstanding workers were selected among 56 candidates nominated from youth unions. The awardees are technicians, engineers and workers who have worked hard; applied initiatives and advanced technology to improve and create cost-effective production techniques; made outstanding contribution in working, training and sharing experience with next generations.

For instance, worker Pham Thanh Trung from An Phat Machine Company has had 6 initiatives for 5 past years to improve technique. His initiatives benefit billion dong for the company per year.

Thousands young workers and laborers in the city attended the award ceremony.

Speaking at the ceremony, Pham Hong Son, deputy party secretary of the city's Communist Youth Union said that for 33 past years, the young workers and laborers contributed greatly to the city's development.
Accordingly they are deserved to receive awards, proving their contribution to the city's growth. For the 8 past years, the award was presented to 188 outstanding young workers in the city.

Deputy Chairman of the municipal People's Committee Tat Thanh Cang, and Ms. Phan Thi Quyen, wife of martyr Nguyen Van Troi attended the ceremony.