Le Hoang Quan, chairman of the Ho Chi Minh City People's Committee, awarded a medal on November 18 to Professor Nguyen Thien Thanh, a People's Doctor, Teacher and Scientist who is recognized for his many contributions to the country.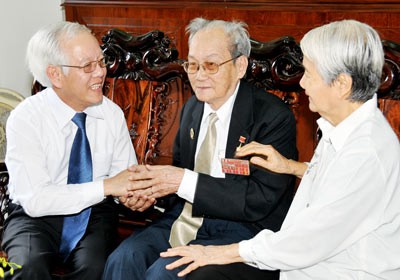 Chairman of the Ho Chi Minh City People's Committee Le Hoang Quan (L) shakes hands with Prof. Nguyen Thien Thanh (C) on November 18. (Photo: SGGP)
Prof. Thanh, 90, is the father of Deputy Prime Minister and Minister of Education and Training Nguyen Thien Nhan.
In 1985, Prof. Thanh was granted the Hero of Labor title and in 1989 he received the honor of People's Doctor by the state.
His family is just one of five in Vietnam in which both a son and father are professors.
On the same day, Mr. Quan bestowed gifts on Ms. Nubuko Nakamura, wife of the late Prof. Luong Dinh Cua – the top agronomist of Vietnam.
Ms. Nakamura, 87, has lived in Vietnam for 57 years and is a former Japanese translator and broadcaster on Voice of Vietnam radio.
After studying in Japan, Prof. Cua returned to Vietnam with his wife and began working for the Institute of Agricultural and Forestry Research at the University of Agriculture and Forestry.
Prof. Cua is recognized for contributing to the development of the university working as vice rector and is noted as the first to apply foreign experience, mainly from Japan, to the area of paddy cultivation.
Within local agricultural circles, farmers and consumers affectionately refer to a number of Prof. Cua's hybrids as "Mr. Cua's rice varieties," "Mr.Cua's potato," and "Mr. Cua's melon."