The number of vehicles is skyrocketing in Ho Chi Minh City while road space dwindles due to a host of urban projects. With no end to the dizzying traffic congestion in sight, more residents are questioning how officials have let the situation spiral out of control.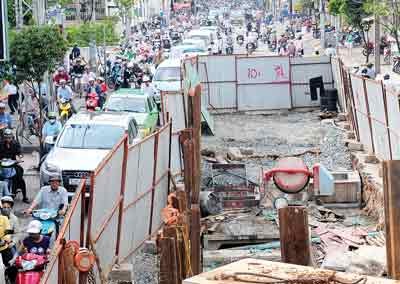 Roadwork  projects contribute heavily to HCMC's traffic headaches ( Photo: SGGP)
HCMC now has around 500,000 cars and 4,000,000 motorbikes. The city sees an alarming average increase of 100 cars and 3,000 motorbikes a day. The number excludes over 60,000 cars and some 1,000,000 motorbikes which travel through the city daily.
In 2007, the city had 3,365 roads spanning 3,223 kilometers with just 1.7 percent of the city's total area capable of accommodating traffic, extremely low compared to other countries in the world.
City officials, meanwhile, say they are short of capital for construction of new roads and have called for contributions from all sectors.
In addition to more vehicles, poor urban planning, infrastructure-upgrade projects, and poor public education have also contributed to HCMC's overwhelming gridlocks.
Traffic congestion worsened significantly in recent years when work began on the West-East Highway, Thu Thiem and Phu My bridges, and Nam Ky Khoi Nghia Street to name a few. New residential quarters have also been mushrooming, putting a strain on surrounding streets.
However, when road expansion projects are undertaken, progress is often slow and causes a dramatic increase in traffic volume.
Another issue is that some French-built roads, like District 3's Tu Xuong, Le Quy Don, Tran Quoc Thao and Truong Dinh, are extremely narrow and were never designed to handle large volumes of traffic, according to the HCMC Department of Planning and Architecture.
Moreover, some houses in the area were converted into restaurants and schools, causing acute traffic congestion during rush hours as parents stop to pick up their children or visit an eatery. Along a one-kilometer stretch of both Tu Xuong and Le Quy Don streets, for instance, there are five educational facilities and restaurants each.
An influx of people going to work in new downtown buildings has also worsened the problem. As dawn breaks, workers head into the city en masse navigating slowly around a slew of new roadwork and building projects.
A three-kilometer section from Dinh Tien Hoang to Cach Mang Thang Tam and Nguyen Thi Minh Khai Street is home to some 10 high-rise buildings including Itaxa, Indo Chine, Center Tower, Somerset and the office building of Construction Corporation No. 1.
HCMC leaders say they have worked out plans to limit private vehicles, though they have met with opposition and have yet to curb the number of new cars hitting the streets daily.
Related article:
HCMC traffic hurting country's economy
Experts mull solutions to ease city's traffic congestion