The speeding Toyota Altis car that crashed into 12 stationary motorcycles in District 10 of Ho Chi Minh City on October 7 was found to have had no mechanical fault, after technicians checked the vehicle.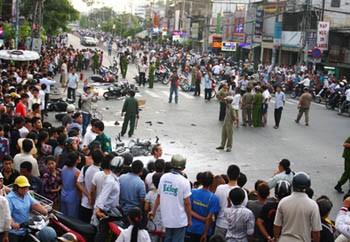 Scene of the accident in District 10 on October 7 (Photo: SGGP)
Senior lieutenant colonel Truong Van Hoa, deputy chief of the Investigation Agency under the Ho Chi Minh City Police revealed on Wednesday that the car had been assessed by technical experts and found to have had no mechanical faults.
The car had been taken on the very same day by the investigation team to salon Toyota Ly Thuong Kiet in Tan Binh District for a thorough check and assessment.
After technicians checked the vehicle, they said that factors that could have caused the crash like a faulty steering wheel, gearbox, brakes or engine failure, were all functioning normally.
This is contrary to what the driver of the car, 42-year-old Tran Anh Huy said after the accident in which two persons lost their lives.
The case is still under investigation.
Related articles:
Speeding car crashes into motorcycles at red light crossing
The driver causing the accident killing two women is detained