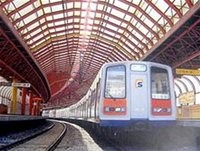 An artist's impression of the Ben Thanh – Suoi Tien metro in Ho Chi Minh City
The Ho Chi Minh City People's Committees ordered relevant agencies to check the progress of the Ben Thanh – Suoi Tien metro and penalize any organizations or individuals that have caused delays, such as refusing to leave lands, inadaquate compensation for inhabitants in metro building areas.
People's committees in districts 1, 2, 9, Binh Thanh and Thu Duc were asked to raise public awareness of those who have been affected by the metro project.
The committees must provide support and vocational training to those whose land was acquired by the project. They must have a clear roadmap in resettlement and compensation, the city's committee said.