Many festivities and special events have been organized in the center of the Ho Chi Minh City and in remote areas to welcome 2009.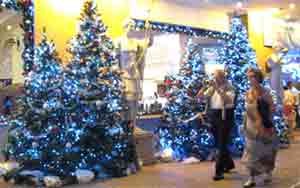 Foreign visitors in HCM City during the Christmas and New Year season (filed photo)
A merry festival themed "Ho Chi Minh, a civilized, modern and humane city" will take place at the September 23 Park on Le Lai Street in Pham Ngu Lao Ward of District 1. The event includes a series of cultural, artistic, entertainment and cuisine activities.

During the festival, participants will enjoy special shows of both traditional and modern music performed by some of the city's most well–known artists. There will be funny traditional games, traditional dances, singing and dancing contests for children and teenagers.

At an exhibition to showcase the political, economic, cultural and social achievements of the city, people will be able to see photos, models and posters that demonstrate the city's determination to integrate into the global economy.

A section of Le Lai Street will be transformed into an "Art Road" displaying traditional musical instruments. Southern folk operas (cai luong) and shows of don ca tai tu (a combination of ancient southern tunes, Binh Dinh classical opera and Hue ceremonial songs) will be performed on a floating stage on an artificial pond in the park and on wooden barges on the banks of the pond.

The festival will begin at 8 p.m. on December 26 and end at 12 a.m. on January 2, 2009.

Aside from such festival, many other activities will be organized on streets in the center of the city, including Dong Khoi, Nguyen Hue, Le Loi, Le Duan, Nguyen Thi Nghia and the Ben Thanh Market roundabout, in Phu My Hung Urban zone, Tan Thuan Processing and Export Zone in District 7, Linh Xuan Processing and Export Zone in Thu Duc District, Tan Binh Industrial Park, District 12 Cultural Center, Gia Dinh 2 Park and in amusement parks in remote areas.

On January 1, 2009, city authorities will organize a special event at Tan Son Nhat Airport to welcome the first tourist of year.