The Asian Development Bank (ADB) announced on Tuesday a US $1.7 million technical assistance grant for Viet Nam to prepare a project to construct two subways in Ho Chi Minh City, the country's commercial hub.
The two metro systems, which require a total investment likely to exceed US$5 billion, are expected to be operational by 2010.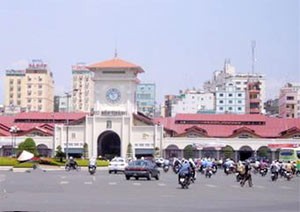 Ben Thanh Market in District 1, where the two planned subways' first station will be located (Photo: Tuong Thuy)
The subways, projected with a route of 20.6 kilometers long and 22 stations, will traverse Ho Chi Minh's business districts.

Metro 1 will run from Ben Thanh Market via Cach Mang Thang Tam Street and Ba Queo Junction to Tham Luong. Metro 2 will also start at Ben Thanh Market and run via Nguyen Thi Minh Khai, An Duong Vuong, and Hung Vuong streets to Mien Tay Coach Station.
The ADB grant will finance the preparation of a subway master plan and land use strategy that maximizes metro use and reflects anticipated demand, said the ADB.
The grant will also help draw up preliminary engineering designs and technical and operational standards. Financing options, such as public-private partnerships, will likewise be proposed.
The Vietnamese Government will contribute an amount equivalent to US $500,000 to the technical assistance's estimated cost of US $2.2 million. Ho Chi Minh City's Urban Metro Preparation Unit is the executing agency for the technical assistance, which is due for completion around April 2008.
The goal of the subways is to provide convenient, comfortable, safe, affordable, and clean urban travel means that improve the quality of urban living and reduce reliance on private means of transportation.
With plans for subways, new ports and a new airport, Ho Chi Minh City has embarked on one of the most ambitious programs of urban renewal anywhere. A tunnel is being dug beneath the Saigon River, and a tram network has been mapped out.
"We can expect that in the next 10 years we will be seeing a completely different city," said Mr. Ayumi Konishi, the ADB's Viet Nam country director. "It is certainly becoming one of the Asian megacities."