The Ho Chi Minh City Department of Education and Training has proposed the city People's Committee stagger school hours to help alleviate traffic jams caused when students are let out en masse for the day.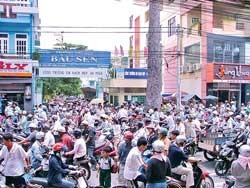 A traffic jam in front of Bau Sen Primary School on Nguyen Trai St., District 5, HCM City (Photo: SGGP)
According to the proposal, preschool children would start at 7:30 am and finish at 4 pm; primary school would run from 7-11 am and 1:15-4:45 pm; junior high would run from 7:15-11:30 am and 1:15-5:15 pm; and senior high would run from 7-11:30 am and 1-5:30 pm.
For key roads where traffic jams often occur, the department suggested district People's Committees meet with local school headmasters to adjust class times and thus curb crowding in front of school entrances.
In addition, the department suggested that district People's Committees coordinate with local police to regulate traffic in front of school entrances when schools let out for the day and prohibit street vendors from congregating outside of schools.
The department also asked educators to encourage students to take the bus and last year banned students under 19 or without a license from driving motorbikes to school.