Considerably positive changes have been made in the Ho Chi Minh City Department of Construction after a half year of applying the ISO 9001:2000 Quality Management System to the department's administration system.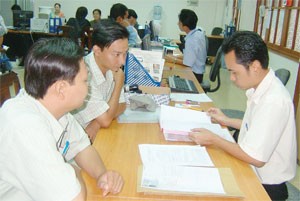 Applicants at the Department of Construction

Mr. Do Phi Hung, Deputy Director of the Department of Construction, said that the application of ISO 9001:2000 has helped improve staffs' working quality and promote a spirit of cooperation. Through this system, relevant officials can better inspect each given dossier and thus have immediate measures to resolve any problem occurring during the process.

Thanks to the ISO 9001:2000 system, 100% of applications have been considered and settled on time. This improvement is the direct result of the officials' changes in attitude about their work.

The implementation of the "one-door" mechanism with trouble-free administration procedures and the application of information technology have helped speed up the department's administration procedures and create convenience for applicants.

"One door" means a mechanism for settling citizens' and organizations' problems, which fall under the domain of State administrative agencies, from the reception of requests and dossiers to the return of results through a single body, the "request-receiving and result-returning sections" in State administrative agencies.

According to Mr. Phan Thanh Tung, an employee of a construction company, the appraisal procedure of a construction design formerly took months to complete but now it has been shortened to only a few weeks.

All relevant organizations and agencies have carried out a thorough review of the current administration procedures and made adjustments to create convenience for applicants, such as: those who apply for professional certificates in fields related to construction will need to produce only one dossier instead of the three as previously required.

One more positive change is that all necessary information on various related procedures is now posted in the department's hall for the applicants' convenience.

However, Ms. Anh Hoa, one of the department's officials said the administration reform is still in its first phase, and is far from perfect.

Administration procedures relating to construction work are always more complicated than others since they involve many departments and agencies such as the Department of Planning and Investment, the Department of Fire Prevention and Fighting Police. Therefore, problems often arise due to a lack of coherence among these departments.

Mr. Do Phi Hung, Deputy Director of the Department of Construction, said the organization's biggest difficulty is in human resources. The department is currently facing a lack of qualified officials to deal with increasing loads of paperwork.