Six more districts have just been connected to the system of answering inquiries about administrative documents through telephone no. 1900 545444, said Director of the Ho Chi Minh City Department of Posts and Telematics Le Manh Ha. The six districts include Districts 2, 5, 10, 11, Phu Nhuan, and Thu Duc.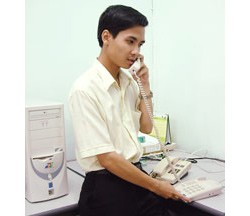 Just make a phone call from home or any where, people can learn about the progress of solving their administrative documents. (Photo: Yen Chuong)
Previously, the Department of Investment and Planning, District 1 and Binh Thanh District have jointly piloted this system and achieved good results.  
According to a plan, all 24 districts of Ho Chi Minh City will be connected to the system of querying status of administrative documents through the common switchboard by late 2006.  
Besides, by the late 3rd quarter, departments and sectors of the City such as Departments of Investment and Planning, Construction, Natural Resources and Environment, Transport and Urban Public Works, Posts and Telematics, and Ho Chi Minh City Taxation Bureau, will make available (to public view) of processes and progresses of investment project appraisals on the information supplying system under the "single door" scheme. 
With the "single door" system of querying, people can have access to the status of their administrative documents without much hassle in four sectors: economy (business registration papers), culture (license application papers), labor (labor use registration papers) and construction (construction license papers and real estate documents). 
Thanks to the system, people can learn about status of their documents by calling or sending messages to the number 1900 545444, and no traveling is required. 
Ho Chi Minh City is the first city in the country to have implemented this system.