Secretary of the Ho Chi Minh City Party Committee Dinh La Thang said that administrative reform aimed at better service for businesses not a higher rank at a meeting with the Department of Planning and Investment yesterday.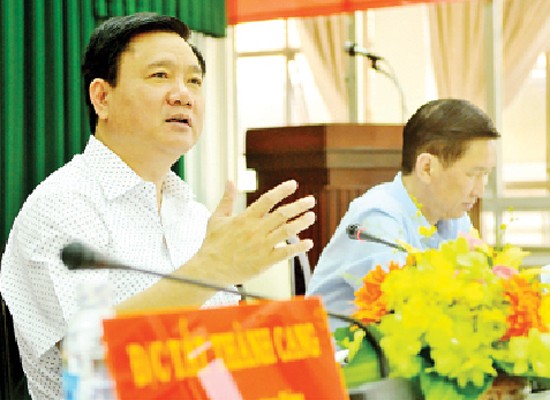 Secretary Dinh La Thang states at the meeting on administrative reform with the Department of Planning and Investment on August 23 (Photo: SGGP)
Mr. Thang made the statement after hearing good administrative reform reports by the department and other agencies while the city has been degrading to below average by the Vietnam Chamber of Commerce and Industry (VCCI).
Opening the meeting, Mr. Thang asked why HCMC is a dynamic city but its dynamic index is below average for six consecutive years.
Of ten indexes, HCMC has seen five below average including human resource training, unofficial spending and transparency.., he added.
The department has not paid attention to administrative reform as a deputy director has been in charge of the steering board on administrative reform not the director. What do the director and secretary of the party committee at the department do? Mr. Thang asked.
Sharing the same view, deputy chairman of the city People's Committee Tran Vinh Tuyen said that leaders' care was necessary for the efficiency of administrative reform. The steering board should not be established for form's sake but must take action and conduct regular supervisions.
Reports by authorized agencies show that the department has attained many achievements in administrative reform. Specifically, licensing time has reduced from 5 days as per regulations to three days.
The time to solve investment registration procedures reduces 30 percent compared to regulations at the Investment Law, from 10 to 7 days.
The department has implemented some new models to facilitate businesses' operation, for instance it have launched appointment setting service via switchboard 1080 and business registration at home.
During the first eight months this year, the department solved 99 percent of 163,000 received documents on time. The number of additional papers reduced from 40 percent before to 6 percent now.
Answering Mr. Thang's question that the figures were good so why the rank HCMC had reduced, director of the Internal Affairs Department said that index determination way caused many inconveniences for the city compared to other provinces.
Talking about a care model for workers, Mr. Thang said that Binh Duong has built housing projects for workers at the price of only VND300-400 million (US$13,000-18,000). He asked if investors in HCMC could do that with available land fund.
Another matter he referred to was the city's target to have 500,000 businesses by 2020 and urged relevant sides to pay attention to quality not quantity. They should review shutdown companies to learn about reasons and give suitable assistances and transfer home-based businesses into enterprises.
He prompted the Department of Planning and Investment to make more effort to reduce the licensing time of business establishment.
At the meeting, permanent deputy secretary of the city Party Committee Mr. Tat Thanh Cang said numbers on the city's development gloomy as foreign direct investment (FDI) saw registered capital hit US$3.1 billion but disbursement reach only 50 percent of that during the first eight months.
According to Mr. Cang, FDI capital attraction has failed to meet expectations not because the city is selective but has no major investment policy. Even authorized agencies have not been able to grasp the city's clean land fund situation, how they could map out a strategy to lure investors.