Authorized agencies showed their determination to implement long-delayed Thanh Da-Binh Quoi urban area project in Binh Thanh, Ho Chi Minh City at meeting with the district People's Committee on Tuesday.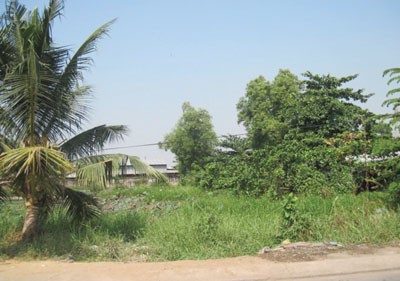 Hundreds of hectares of agricultural land have been abandoned in Binh Quoi-Thanh Da Island, Binh Thanh District for more than ten years because of the long delayed urban project (Photo: SGGP)
The project has planned but been delayed for more than ten years, raising difficulties to local people. It is one of the longest delayed projects in the city therefore the local agencies including Departments of Natural Resources and Environment, Planning and Architecture, and Construction showed their determination to redo this project on Tuesday.
A 1/2000 detail plan by Bitexco Company has been approved to build Binh Quoi-Thanh Da Island into a modern ecological urban area, according to the Planning and Architecture Department's representative.
At the meeting, the Department of Natural Resources and Environment said it would do necessary procedures to hand over land to an investor that would be selected by the city.
Bitexco Company, who is considered to be the project's investor, affirmed that if being chosen, it would immediately conduct site clearance and compensation and build technical infrastructures, which are expected to take five years.
Binh Thanh District said it would assist the investor and related sides to solve difficulties for residents.
Head of the Economics and Budget Committee Nguyen Van Dong instructed agencies to create the best conditions for local people to stabilize their lives and for the establishment of the Binh Quoi-Thanh Da urban area.