The concentration of pollutants like dust, SO, and CO has been always high in Ho Chi Minh City, exceeding permitted levels since 2003.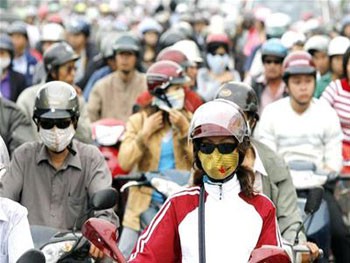 Motorcyclists wear masks to protect themselves from polluted air
The statement was made by Dr. Nguyen Dinh Tuan at a recent meeting held by the HCMC Science and Technology Department to discuss the situation of air pollution in the city.
 
He said two main factors that have caused 80 percent of the pollution are industrial production and traffic.
 
Hoc Mon, Cu Chi and Binh Chanh districts have been the worst affected. Because these areas always receive polluted air blew from the inner city.
 
The city's nine automatic and eight semi-automatic stations for measuring pollution levels are currently very old, so their measures are unreliable, he added.