At Saturday's launch of 'Clean the World 2011' campaign, the Ministry of Natural Resources and Environment asked all citizens, organizations and businesses in Vietnam to work together to counteract climate change.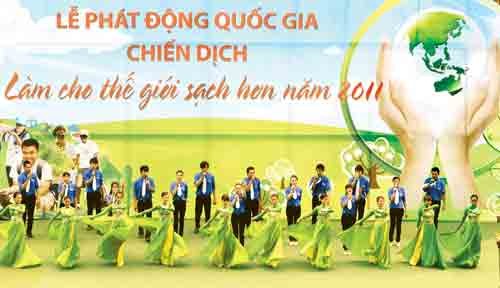 A musical performance at the launch ceremony (Photo: SGGP)
The campaign, organized by the Ministry, Ho Chi Minh City People's Committee and the HCMC Communist Youth Union in Phu Nhuan District in HCMC, had over 5,000 citizens taking part in the kick off event.
Bui Cach Tuyen, Deputy Minister of the Ministry of Natural Resources and Environment, emphasized at the launch ceremony that every person can help towards the campaign by adopting simple and practical habits such as saving on electricity consumption, consuming fewer unnecessary material commodities, recycling waste and usable products, discontinuing use of plastic bags, encouraging people to protect the environment and raising awareness of the need to protect our surroundings.
The theme of the campaign 'Our Place-Our Planet-Our Responsibility', highlights action taken at the micro level in communities has a global impact.
In response to the campaign, many practical activities were held in the city such as an exhibition on the achievements in environment protection in the Lam Son Square in district 1, a seminar to raise awareness of the dangers of plastic bags, the importance of dredging canals, planting trees and keeping residential areas in districts clean and pollution free.
Since the first campaign was launched in 1993, 'Clean the World' has motivated an estimated 35 million volunteers in 130 countries and territories each year to act against climate change and environmental pollution.
Vietnam joined the campaign in 1994, and since then has actively supported all its activities.