Ho Chi Minh City People's Committee has announced a plan to develop a new water supply in 2008-2010 in an effort to reduce strains on the city's underground water.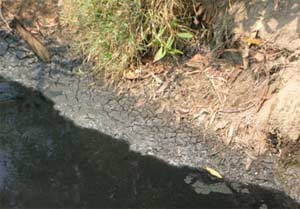 Large section of HCMC's underground water has become polluted (Photo: NLD Newspaper)
According to the officials, the city sets two options in its plan:
 
About the first option, city will invest VND3.7 trillion (US$228.19 million) in seeking and developing new water sources. These new sources would expect to reduce the daily use of underground water from the current 520,000 cubic meters to 102,500 in 2010, about 80 percent down.
 
VND6.274 trillion (US$377.95 million) will also be earmarked for the installation of new water pipe system 500 kilometer long in addition to the current 1,260-kilometer system.
 
In option two, in 2009 HCMC is to achieve a decrease of 62 percent in the exploitation of subterranean water and in 2010 a further 19 percent reduction. The city plans to spend VND4.6 trillion (US$390.84 million) on developing more new water sources in this latter option.
 
It will also spend VND7.423 trillion (US$447.17 million) on adding 700 kilometers of water pipes to its current system. 
Recently, the North Center Geological Union warned that the underground water source only received about 200,000 cubic meters per day from nature, much lower than the daily requirement of city's 520,000.