The very popular annual 'Charity Bazaar' organized every year by the Consular Club in Ho Chi Minh City will be held on December 1 this year at the White Palace Convention Centre.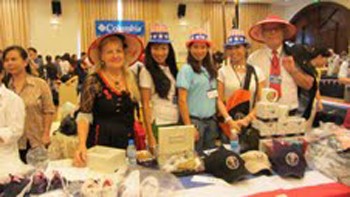 Picture of the Charity Bazaar last year
Due to its overwhelming popularity and support of attendees and participants alike, the Consular Club will hold the Charity Bazaar at the White Palace Convention Centre on 194 Hoang Van Thu Street in Ward 9 in Phu Nhuan District.
The Charity Bazaar is organized by members of the Consular Club, an organization comprising of representatives from the Consulates and Honorary Consular missions in Ho Chi Minh City. The members include spouses of Consul Generals, trade representatives, Consulate staff and members of respective country's communities, mainly designated by the Consul Generals.
The event usually begins at 10.00am and lasts until 3.00pm. In addition to purchasing foreign made goods and food items, visitors can also purchase tickets for the popular Grand Raffle.
Lucky draw tickets are available for VND50,000 each. Prizes include return airline tickets (to Dubai, USA, Bangkok, Bali, Singapore, Europe, etc.), five star resort stays in Nha Trang, Da Nang, Ba Ria-Vung Tau, Phu Quoc, etc.), lunches or dinners at luxury restaurants and hotels in Ho Chi Minh City, spa vouchers and much more.
All prizes in the raffle are valued at more than US$100. This year especially, the bazaar will have 600 grand raffle tickets valued at VND500,000 each and two special prizes for a Vespa LX 150 and one Honda SH motorbike.
Santa Claus will be there to have his photo taken with children and adults as well as to ring in the festive season of Christmas. Organizers expect this year's Bazaar to attract crowds of expatriates and Vietnamese alike to exceed 2,000 more visitors than last year.
Entry tickets will cost VND100,000 for adults and children under 10 years of age, accompanied by an adult can enter free of charge.
The spacious new White Palace Convention Centre will be venue for the very popular annual Charity Bazaar that sells goods and food items from all over the world for a good cause. Proceeds from the Charity Bazaar will go towards helping the unfortunate and impoverished in the community.
Last year the Charity Bazaar raised nearly VND2.6 billion. Projects supported by the Consular Club through funds generated range from study scholarships, medical care, improved rainwater purification and flood relief. All Consular Club members volunteer their time to work towards improving the quality of life of the disadvantaged in Vietnam.
Come celebrate the start of the holiday season by shopping for a good cause--shop to make a difference in a fellow life.
For more information on the Charity Bazaar (including limited advance ticket sales and grand raffle tickets), contact the Consular Club by email: charitybazaarhcmc2012@gmail.com or the Consulate General of the State of Kuwait at 24 Phung Khac Khoan Street, Da Kao Ward, District 1, HCMC. Phone: (+84 +8) 38 270 555.